James Robson writes on behalf of Classical Studies colleagues as the Department bids a fond farewell to Paula James, who is retiring after 22 years at the OU.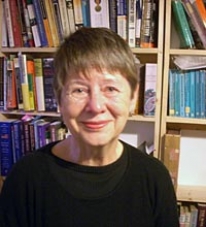 Paula originally joined the OU in November 1993 and has made an enormous contribution not only to the life of the department, but also Region 13, where she worked as a Staff Tutor. Anyone who has studied or taught on an OU module dealing with the Roman world or Latin language over the last 20 years will be familiar with Paula's work. She has written at all levels in her time at the OU, often – in true Paula style – choosing to work in close collaboration with central academic and Associate Lecturer colleagues. On the cultural side, she co-wrote A428 (The Roman Family) and the hugely popular material on the Colosseum for A103 (An Introduction to the Humanities), in addition to making distinctive contributions on topics as diverse as Roman reputations (A219 Exploring the Classical World), Roman North Africa (AA309 Culture, Identity and Power in the Roman Empire), Buffy the Vampire Slayer (A330 Myth in the Greek and Roman Worlds) and Seneca (MA in Classical Studies). Her work on our language modules has included chairing Reading Classical Latin (A297) in production – a module that hit the headlines by attracting 1,000 students in its first year.
Paula has always been a hands-on colleague who cares deeply about the social mission and traditional values of the OU. Often outspoken about the need to maintain as many face-to-face opportunities for students as possible, Paula put in ten years of Summer School teaching and is proud to have begun the tradition of visiting Associate Lecturers' tutorials to provide them with feedback and support. Her 'outspokenness' is hardly restricted to the realm of teaching, however, and many of her Arts colleagues know Paula best for her lively and polemical contributions to Faculty debates. She is always articulate, always passionate and always determined to hold the university management to account. Most notably, Paula recently led the fight to save Region 13 when the university announced its closure in 2014. The campaign may have been ultimately unsuccessful, but Paula nevertheless won some important battles.
They may at times have been at loggerheads, but Paula and the OU have also been such a great fit. As someone who came to Classics as a mature student, she provides a great example of the transformative power of education as well as the OU's preparedness to take a punt on someone who doesn't neatly fit the cookie-cutter mould. The eclectic nature of her research is not just refreshing (Apuleius' The Golden Ass and Roman poetry on the one hand; film, TV, literary parrots and trade union banners on the other), it has also consistently grown out of her teaching, demonstrating an exemplary mesh between the two. Importantly, too, Paula's presence has always added energy, informality and friendliness to the department, qualities that contribute towards making OU Classical Studies such a wonderful place to work. I don't suspect for one moment that we have seen the last of Paula at Walton Hall, but she will be much missed by her colleagues all the same.