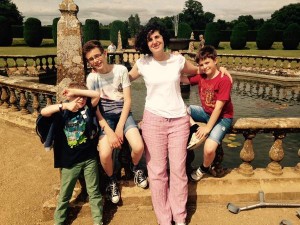 Just over 23 years ago, I received the advance reading list for my undergraduate degree in English. At the top of the list was the Odyssey. I remember reading it during the lazy summer holiday between 'A' Levels and university, dutifully at first but soon sucked in to the twists and turns of the story. As my degree progressed, I began to realise the extent to which it underlies our literary tradition and my interest in cultural, or 'literary', memory began to take root.
Now, I am coming to the end of the first year of my PhD with the OU and my project has memory at its centre. The title is 'Tracing the Establishment of Political Society: Remembering and Forgetting in Ancient Greek Literature' and it starts with the premise that memory is a political process, taking place in a political environment, one which memory itself helps to engender. I was fortunate enough to get funding for this project from the OU and have two fantastic supervisors from the Classical Studies Department (Elton Barker and Helen King) and a third supervisor – a specialist in Memory Studies – from the English Department at Goldsmiths (Rick Crownshaw).
My topic evolved out of an essay on Justice in the Odyssey which I wrote at the end of the first year of my MA in Classical Studies, also with the Open University. (At that time, my three children were very small and I little thought that I would do more than that one module of the MA, let alone go on to do a PhD.) I began to notice that an analysis of the different memory groups inside and outside the poem – suitors, suitors' families, Odysseus, the audience – might offer a more interesting and nuanced interpretation of Homeric justice than I had yet come across. After this, I knew that I wanted to be the one to do that work.
I have spent this year adventuring on the high seas of memory theory, trying to navigate a path through research in Social Studies, Psychology, History and Literary Studies around terms such as social memory, cultural memory, myth and tradition. Some ideas have called me with the song of the Sirens, luring me onto the academic rocks, while others have sped me on with power of the West Wind to make new connections and to give me the feeling that progress is being made. I have developed an interpretive process based on my reading which involves: i) looking at literary representations of remembering and forgetting and considering the ways in which they contribute to the formation of political identities within texts; ii) examining the ways in which the audience's or reader's memories of other texts or of historical events might affect their interpretations of texts and, by extension, how this might make them reflect on and, even, seek to change their own political environments; and iii) analysing the ways in which texts themselves were remembered, for example in quotations or allusions in other texts and what this might tell us about the changing political climate in which they were created and received.
I have also been testing out this interpretive process on a range of primary texts, developing my analysis into papers for presentation at postgraduate conferences. At the OU Classical Studies Postgraduate Conference in April I spoke about Plato's Theaetetus and the image of the wax tablet as a metaphor for memory – one which recalls memories of tragedy in its language and is itself remembered in Aristotle and Freud. Here I also reflected on the potential offered by memory for thinking through the seeming paradox presented by Plato's written philosophy and the Socratic dialectic his writings espouse. I also delivered a paper at a postgraduate conference based around the topic of 'Looking Back and Looking Forward' at King's College, London. This paper focused on Euripides' Trojan Women and, in particular on his depiction of a present in which time is suspended, from which characters remember their pasts and reflect on their futures, prompting the audience to do likewise. In both cases, remembering is more than simply recalling. It is a process of recreation in a specific political situation which demands reflection and debate: a political process which re-members society. Both experiences were hugely beneficial (if incredibly daunting in the anticipation) not only for drawing my ideas together but for getting a sense of the work in which others in the field are engaged.
At present, I am still forecasting with blithe confidence that this will be a cross-generic study, encompassing Homeric epic, drama, historiography and philosophy, though perhaps I'll be forced to abandon some aspects of the study by the wayside. Cross your fingers for me that, even if trouble may lie ahead, I may find my way 'home'!
by Sophie Raudnitz