This year's Classical Association (CA) conference, the largest annual gathering of classicists in the UK, was hosted earlier this month by the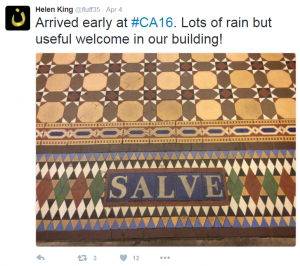 University of Edinburgh and was well-attended by members of the OU's Classical Studies department. Several of us convened panels or gave papers, and still more of us went along to meet up with colleagues from other universities and to find out more about ongoing research in our field. Next year will see the CA conference co-hosted by the Open University in conjunction with the University of Kent, so this was also a great opportunity for us to take notes on some of the organisational aspects of running such a large-scale event!
Eleanor Betts convened two separate panels, this first of which was 'Sensational Sanctuaries', at which both Eleanor and Emma-Jayne Graham presented aspects of their research on sensory experiences of ancient religious sites. The second panel, 'Power Ranging: Processional Routes from Republican Rome to Napoleonic Paris' included two of Eleanor's current PhD students, CHASE student Catherine Hoggarth (University of Kent) and Lewis Webb (Umeå University, Sweden). Read more at Sensory Studies in Antiquity.
Meanwhile Associate Lecturer Tony Keen, as part of a panel on classical myth and science fiction, presented his research on Greek mythology in Iain Banks' The Bridge. Elsewhere PhD student Mair Lloyd organised a panel on 'Living Latin' which brought together experts on the use of immersive spoken language classes as a means of learning the ancient language. You can read a summary of the panel and listen to recordings of the individual presentations on Mair's blog, and see the Storify of the panel, which was incredibly well-received, here. Mair, along with James Robson, also presented a session on language pedagogy – 'From zero to hero: managing the transition to university-level study at the OU' – which showcased the OU's new Latin module.

We asked some of our postgraduate students to share their thoughts on attending the conference. Here's what they had to say:
Stuart McKie (PhD student) told us:
My favourite thing about the CA was the huge variety of panels on offer. Over the three days I was there I heard papers on Roman temples, rebel speeches in Tacitus, female suicide in Greek tragedy and Greek myths in modern sci-fi. For my own research interests, the experience of religious and magical practices, the panel on 'sensational sanctuaries' was the most applicable. The four papers presented, including those from the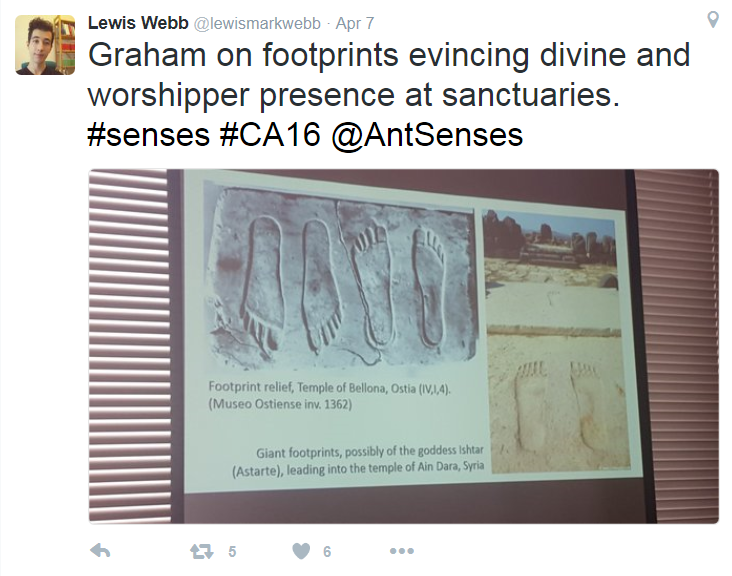 OU's own E-J Graham and Eleanor Betts, gave me great insights into the work being done to understand how people in the ancient world experienced their religious spaces. For me the stand-out paper from the whole conference was from Terence Tunberg, who gave a demonstration of how he teaches Latin as a living language. The paper was delivered completely in Latin in an incredibly energetic style, and included audience participation to get us all involved. I came away with a completely different appreciation not only of teaching methods, but also of how Latin works as a lived, spoken language.
The social side of the conference was also great for me. I got to meet lots of new people, as well as reconnecting with people I only really see at these huge conferences. As this is the 21st century, a fair chunk of this networking was done online, with a very active group of people on Twitter using the hashtag #CA16. All in all it was a great few days, and I already can't wait for next year!
Cheryl Barker (MA student) writes:
The 2016 conference was the biggest to date, and thus offered a wide variety of panels over 4 days. There were opportunities to discover new approaches to classics, hear a panel in spoken Latin or review papers on more familiar areas related to one's own past or current studies.  I was very happy to listen to PhD students presenting their ongoing research on the reception of Sappho and erotica or theological reflections on Cicero.  Eminent professors from across the world debated Tacitus and the peripheries of Empire, ekphrastic mimesis and Persian women in the Greek arts.
The conference was an interesting, informative and convivial experience, and an opportunity for sharing ideas and socialising with likeminded people. It was great to meet up with old friends I first met through OU online fora or at past conferences as well as making new acquaintances over the delicious cakes and scones. There was opportunity to explore the cultural aspects of Edinburgh whether on a walking tour of the city or by a visit to Rosslyn Chapel. However for me, the highlight of the conference was Friday evening's dinner with a traditional ambience – a ceilidh and Scottish dancing until the wee small hours.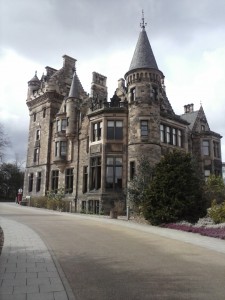 My favourite panels, unsurprisingly, were those which reflected my interest in Greek tragedy and reception and the connection between science fiction and the classics. The panel entitled 'Archaeology of Stardom' made me wish my research was on the reception of classics in contemporary media. Antony Augoustakis compared the 1960 film 'Spartacus' with the 2010s swords-and-sandals television series whilst Monica Cyrino's  cleverly titled 'Maximal Projections' explained how audiences can read classical personas through actors' previous works – or how Russell Crowe brought Maximus to Noah! Included in another great panel on gender and sexuality was  'Nymphos and Nags' about representations of women in  British sitcoms based in the Roman world focusing upon 'Up Pompeii', 'Chelmsford 123' and 'Plebs'. Stereotyped women's roles are as present in modern comedies as in Aristophanes' from Classical Athens. Later, I headed to the Body Adaptors panel and heard, in my opinion,  the most intriguing  paper of this year's conference. Were glass and terracotta grave finds ancient baby bottles and breast pumps – or not? It took experimental archaeology to a whole new level!
Of her experience at the conference Claire Greenhalgh (PhD student) said:
This was my second CA and it was every bit as useful as my first (in Bristol) last year. These events are simply incomparable for making contacts, meeting up with fellow classicists, making friends, discussing your research, meeting all the luminaries in your field (in my case Monica Cyrino, the undisputed guru of television classical receptions) and getting a real feel for all the amazing research being done 'out there', particularly for distance-learning, part-time researchers like myself. Living in North Wales is also a bit of a barrier when it comes to attending conferences relevant to my field and without the luxury of being able to get to London, Oxford or any of the major university cities easily, attendance at the CA will surely become a fixture of my academic year.
Pacing yourself at such an event is very important as there is always so much going on! This year the Q&A with Ian Rankin and Lindsey Davis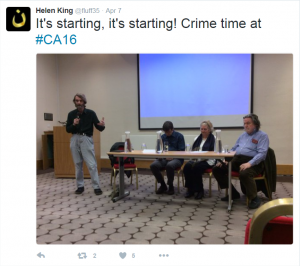 was a highlight for me, but the opportunities for networking and learning about new research fields from attending the sessions were invaluable. I am a classical receptions specialist and I'm always impressed by the expertise out there, especially from early research PhD students who give fascinating, erudite and extremely informative presentations. It makes me aware of how much I need to do, but it's equally inspiring as well. 
For me the classical receptions panel 'The Archaeology of Stardom' was the most fascinating and also the funniest! One paper in particular made me nostalgic for many a Sunday afternoon spent watching biblical epics like Ben Hur, El Cid (not technically ancient world, but certainly epic) and The Ten Commandments, as well as some of the dodgier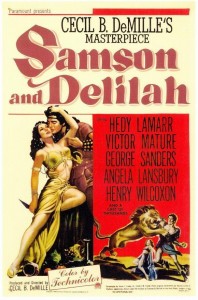 B-movie stuff like the deliciously bad but gorgeously shot Samson and Delilah. The talk by Lloyd Llewellyn-Jones examined the role of off-screen star personas on the way Hollywood classical epics in the cinema were 'read' by audiences. He suggested that many star actors simply played themselves and viewers often confused historical figures with the actors who play them: after all, for many, Charlton Heston IS Moses. Llewellyn-Jones' main case study was the notorious Taylor/Burton romance which dominated the filming of the disastrous Cleopatra (1963) and profoundly shaped the outcome and reception of the text; Taylor's star image dominated the picture and the scandal of their liaison meant that the film was all about Antony and Cleopatra (Caesar's contribution is largely forgotten today) – the film narrative had been envisaged differently but was changed to accommodate the star system. We were treated to some fabulous screen shots, stills, images of those gorgeous movie stars and some wonderful vignettes about the filming. It made me want to watch the film all over again…well, almost!
We hope that you'll be able to join us next year for the jointly-hosted Open University/Kent conference in Canterbury. For more information, including a call for papers, see the 'CA2017' tab at the top of this page.