This research conversation explores the impact of sustainability as a global driver in education on two practitioner researchers' practice and how our current studies have impacted and informed our thinking about sustainability in education. Our areas of research and practice apply to Physical Education (PE) and Music curricula. Sustainability in education was introduced during our studies on the Open Learn badged course Looking globally: the future of education and EE830 Educating the next generation module on the Learning and Teaching pathway of the OU MA/MEd degree. Reflexive thinking by blogging is encouraged and developed throughout the module. This collectively crafted blog post builds on individual blog posts offering more detail about the development of our thinking (see links below).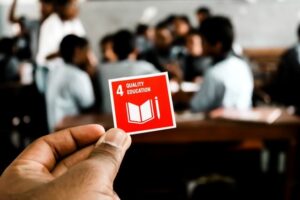 The vision: Education for sustainable development (ESD) looks to equip learners with the skills and competencies required to meet the challenges of the 21st Century. Alongside environmental issues, ESD seeks to address matters such as social justice and human rights issues, as reflected in the UN Sustainable Development Goals, to bring about a sustainable future for all.
Through exploring writers such as Heppell (2020), Wade (2020) and Warwick (2016), thoughts on how ESD can be incorporated into school curricula and ethos were developed (UNESCO, 2017i). Prior to the course, students like ourselves were considering sustainable issues as an area to be introduced into schools through eco-councils, recycling projects and outdoor learning activities. Studying ESD has transformed our view into seeing the necessity of placing aspects of ESD into curriculum, pedagogy and assessment to positively impact on communities in the way needed to bring about a sustainable future (UNESCO, 2017ii). The effectiveness placing ESD at the heart of education to meet the outcomes of the UN Sustainable Development Goals can already be seen in the Canadian provinces (CMEC, 2012).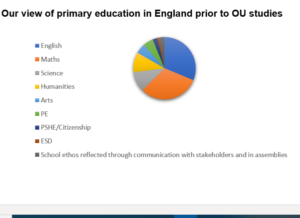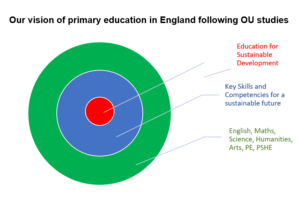 In practice: Examples of the integration of sustainability issues into arts curricula have begun to appear over recent years but music education is lagging behind in this area (Østergaard, 2019). An example of exploration into music's potential to contribute in this area can be seen in Jonathan's blog post Integrating Education for Sustainable Development into Music Education. There are clear parallels between the teaching, learning and assessment styles common in good music teaching to those seen suitable in ESD. Music is ideally placed to support community links (locally and globally) and the development of key skills such as creativity, teamwork and communication.
ESD has a strong presence in the Australian and Canadian PE curricula, however a lack of diversity within the PE curriculum in England is holding ESD back. James' blog post Implementing Education for Sustainable Development in Physical Education in England explores this issue.
Have you come across other examples of ESD being integrated into the PE or arts curricula in the UK or further afield? If so, the authors would love to hear about them.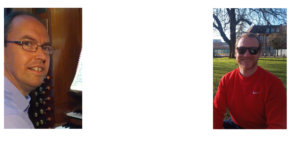 Jonathan Harris                                                                             James Mansell
@hjonathan83                                                                              @JMA_PE
Jonathan and James are students on the EE830 Educating the next generation module of the OU Masters in Education course.