The systemic inquiry approach
'Systemic inquiry' is understood as an institutional form and process designed for engaging with uncertainty and complexity (unlike a project or programme). Inquiry is a form of practice as well as a disposition and it is enhanced by acknowledging uncertainty from the start.
Systemic inquiry begins by being open to situations and acknowledging uncertainty, thereby enabling participants to begin in a different emotional space to that which accompanies the emotion of certainty associated with programs and projects. As systemic inquiry progresses it involves the enactment of a process of learning amongst those who already have, or through participation build, a stake in an issue of concern (Ison 2002; SLIM 2004).
The design of the co-inquiry was developed by Ray Ison and Kevin Collins.  The picture below shows our thinking and ideas about the design of the co-inquiry process over 2 days and a range of iterations.  This was used as a the basis of the final programme.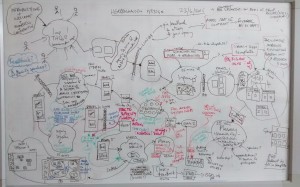 Systemic inquiries are flexible and open ended. There is not one 'right' way in which to do one and they end only when those involved decide to end them.  A systemic inquiry can precede, run in parallel with, or incorporate a programme or project; it can be as short as two days or run until those engaged agree to stop.
Systemic inquiry builds on an intellectual lineage associated with Deweyian inquiry that can be found in systems scholarship (Dewey 1933; Churchman 1971; Checkland 2002; Blackmore 2009; Ison 2010).
Doing systemic inquiry with others is also a particular means of facilitating movement towards social learning, which we understand as concerted action carried out by multiple stakeholders in situations of complexity and uncertainty. Expressed in everyday language social learning is the sort of action associated with everyone working well together to address an issue of concern, much like a good sporting team, though often the rules of the game and thus what constitutes winning have to be invented as you go along.
Inquiry-based practice has been a concern within different systems practice lineages for many years. Chris Blackmore (Blackmore, 2009, p. 67) traces some of the antecedents in the systems field to current practices associated with 'inquiries'. She identifies the following lineages:
what Donald Schön calls 'Deweyan Inquiry' – thought is intertwined with action and inquiry begins with problem situations rather than problems
inquiry based on Vickers' idea of appreciative systems
Churchman's inquiring systems, particularly in the sense of recognising that there are many possible worldviews and perspectives in relation to a given situation or issue.[2]
References
Blackmore, C.P., 2009. Learning systems and communities of practice for environmental decision making, Unpublished PhD Thesis, The Open University (UK).
Checkland, P., 2002. Thirty years in the systems movement: disappointments I have known, and a way forward. Systemist 24(2), 99-112.
Churchman, C.W., 1971. The Design of Inquiring Systems: basic concepts of systems and
organization. New York: Basic Books.
Dewey, J., 1933. How We Think. A Restatement of the Relation of Reflective Thinking to the Educative Process (revised edn), Boston, D.C. Health.
Ison, R., 2002. Some Reflections on a Knowledge Transfer Strategy: A Systemic Inquiry, In: Farming and Rural Systems Research and Extension, Proceedings of the Fifth
IFSA European Symposium, pp. 647-656.
Ison, R.L., 2010. Systems Practice: How to Act in a Climate-change World. Springer, London.
SLIM., 2004. SLIM Framework: Social Learning as a Policy Approach for Sustainable Use of Water, (available at http://slim.open.ac.uk). p 41.