Eleanor Moore ~ Learning Designer
June is Pride Month and here at The Open University, we have a packed calendar of events exploring diverse perspectives and themes of inclusion. One of the first was an online seminar led by Dr Jessica Gagnon of Manchester University and Dr Marco Reggiani of Strathclyde University.
Jessica and Marco delivered an interesting presentation on how visibility is perceived and navigated by LGBT+ academics and PhD students in STEM, with a focus on how multiple axes of oppression impact people and groups who are marginalised and historically excluded. They interviewed 82 people, including 24 LGBT+ individuals, as part of their study. In summing up the key findings of their research, it was clear that emerging themes resonated with seminar participants as people shared their experiences of navigating the complex world of being visible as an LGBT+ person.
Do you bring your whole self to work?
As Jessica explained, if you don't bring your whole self to work because you feel excluded or discriminated against, then you're probably not thriving in that workplace. Research suggests that people with one or more marginalised identities are less productive at work (Nelson, Mattheis and Yoder, 2022: p1). However, research also suggests that those working in STEM with better representation of women reported a higher degree of openness (Yoder and Mattheis, 2016: 21). A 2019 report in the UK revealed that 28% of LGBT+ respondents had at some point considered leaving their workplace because of the climate. This figure rose to nearly 50% for transgender respondents (Institute of Physics et al., 2019: 5).
So why focus on visibility?
Visibility, as Jessica explained, is one of the paradigms through which we understand LGBT+ experiences in Higher Education and relates to the ways in which individuals are recognised, or misrecognised, by others. It's important as it highlights the relationship between identities, perception and power and goes beyond the experience of the individual to explore the role the institution has to play in making the workplace a comfortable and safe environment for LGBT+ people.
Heteronormative bias
Marco, in exploring the data from the thematically analysed interviews, explained how when the top of the hierarchy is dominated by straight, white males, it can feel as though that is the 'norm'. People working around you then assume that you're straight as this is the 'norm' unless you decide yourself to become visible at your own risk. Moreover, if you don't see yourself represented, this can be a barrier in your career, leading to further marginalisation.
Coming out again… and again
It is fair to say that coming out is not a one-time process. Every interaction with new colleagues requires strategic reflection: should I disclose my identity? Should I use the correct pronouns for my spouse? As participants in the seminar noted, it is an utterly exhausting process which is ongoing throughout your professional life. This is not of concern to people who fit the 'norm'; they do not have to consider whether or not to bring their whole selves to work if they fit into the normalised, dominant paradigm. Marco explained that we might navigate visibility in selective ways, for example, outing oneself as having a girlfriend but not as being trans. Jessica articulated how disclosure to one trustworthy person may not stay 'safe', as a well-meaning supervisor or colleague may out you to another person. The key question often is: can I trust who will use this information in the future? Study contributors also mentioned how, when there were other marginalised identities coming into play, the situation was even more complicated as they would need to decide which identity they are going to reveal and when.
Research recommendations
Study contributors stated a clear desire for more visibility in STEM. However, they felt this was an unfair and often invisible burden that has far-reaching consequences in terms of wellbeing and careers. Participants in the seminar agreed that they feel this dichotomy between the desire for visibility and the burden it imposes on them as individuals.
The key recommendation from Jessica and Marco's research is that rather than making visibility an individual burden, it should be an institutional imperative. Many studies, including this one, show that being out in STEM is still a risk that may not be worth taking. So, HE institutions should focus on creating work and education environments where LGBT+ people can thrive. This will allow the conditions for personal visibility to happen by choice and in a safe way.
Implications for policies and practices
Jessica and Marco summed up by providing some key implications for Higher Education. Institutions should work to improve the experience of LGBT+ individuals in STEM and remove barriers. This can be done by:
collecting more robust equality data
improving policies and practices
regular monitoring and reporting
transparent and measurable KPIs
more fully resourced EDI teams
more opportunities for research and sharing of best practice.
Further research is needed to explore the experience of marginalised and underrepresented people in STEM. Intersectionality and critical methodological approaches are recommended to understand and address the effect of multiple inequities.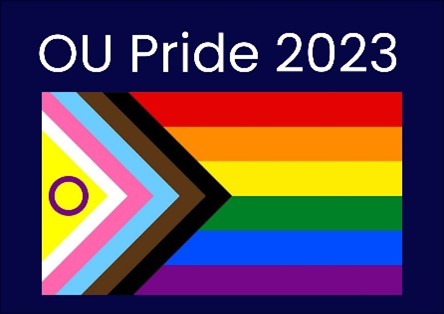 Thanks to Jessica and Marco for giving us so much food for thought. In the Learning Design team at The Open University, we'll continue to explore how we can build in more acceptance and visibility into module design, in STEM and in other faculty areas, the aim being to reflect the wide diversity of experiences and, in doing so, create safer spaces for staff and students in the future.
As Jessica and Marco prompted us to reflect, Pride Month is a good time to think about what more we can do, both individually and collectively, to contribute to a more inclusive working and learning culture.
---
References
Institute of Physics, Royal Astronomical Society and Royal Society of Chemistry. 'Exploring the workplace for LGBT+ physical scientists'. https://www.rsc.org/globalassets/04-campaigning outreach/campaigning/lgbt-report/lgbt-report_web.pdf Accessed on 07 June 2023.
Nelson J., Mattheis A., Yoder J.B. (2022) 'Nondisclosure of queer identities is associated with reduced scholarly publication rates'. PLoS ONE 17(3): e0263728. https://doi.org/10.1371/journal.pone.0263728 Accessed on 05 June 2023.
Reggiani, M., Gagnon, J., & Lunn, R. (2023) 'LGBT + academics' and PhD students' experiences of visibility in STEM: More than raising the rainbow flag'. Higher Education. https://doi.org/10.1007/s10734-023-00993-2 Accessed on 07 June 2023.
Yoder J.B. & Mattheis A. (2016) Queer in STEM: Workplace Experiences Reported in a National Survey of LGBTQA Individuals in Science, Technology, Engineering, and Mathematics Careers, Journal of Homosexuality, 63:1, 1-27, DOI: 10.1080/00918369.2015.1078632 Accessed on 07 June 2023.
[Banner image:  davidf / Canva]