Podcast: An audio file made available for automatic download via web syndication. Typically available as a series, new installments of which can be received by subscribers automatically.
During the years following the coining of the term in 2004, the world started exploring the potential of podcasts. YouTube was an independent curiosity, MySpace was the social media site of choice, and domestic broadband was allowing increasing numbers of people to download and engage with media in new ways. As with most manifestations of the technological zeitgeist, universities hopped on board, and started eagerly exploring the educational potential of the new box of toys.
The result was that academic interest peaked in around 2008, and then settled down as it became clear that listener numbers weren't increasing at the same explosive rate as the rest of the internet. YouTube, FaceBook and Twitter crashed in to the space, and have justifiably taken up head-scratching time with regards to their application and impact on learning and teaching.
In the background though, podcasting has quietly but steadily grown, and is once again tickling against the edges of University awareness. Several factors have conspired to contribute to this. Reports published by RAJAR (Radio Joint Audience Research) show that more than 11% of the UK population listen to a podcast each week. In the US, the numbers are even higher, with Edison Research's Podcast Consumer report giving a staggering 26% of the population as monthly listeners.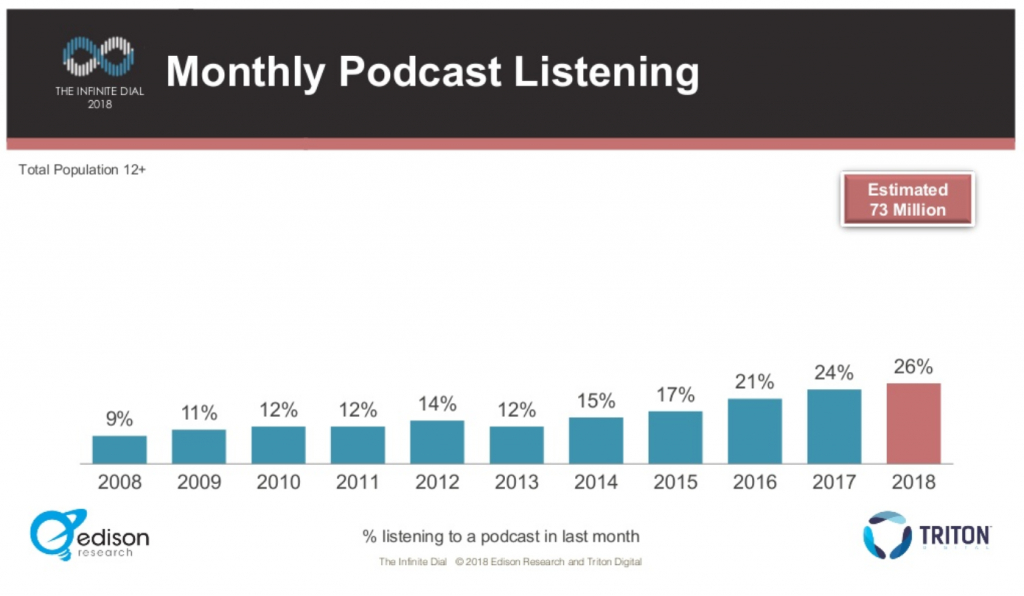 The steady rise can be at least partly attributed to the following trends:
Technology – Smartphones have passed from luxury to ubiquity, and have transformed the concept of on-the-move media consumption. More storage, cheap mobile data, and built-in podcast support on newer devices allow consumers to fill car journeys, gym sessions or the washing up with their on-demand entertainment of choice.
Directories – Apple Podcasts, accessed mostly through iTunes, has been a dominant force in podcast visibility over the last few years, and although the market share is shrinking (estimated to currently sit at around 50% according to BluBrry's blog) it is still the most comprehensive aggregate of podcast content. So much so in fact, that nearly all of the other podcast aggregate services supplement their own directories with Apple's. This counteracts the challenge of the decentralized and scattered infrastructure of podcast hosting services by pulling the disparate elements together in to one, accessible place.
User generated content – Many of us will have had our first encounter with user generated content in the form of the shaky VHS  footage in ITV's 'You've Been Framed'. Since then, YouTube, Facebook and Tumblr (to name but a few) have given everyone a platform to broadcast home made content to the world – with cheap, easy to use cameras and tools letting them capture it. Broadcasting has moved from the domain of the few, to something done unthinkingly by the many, each time we post a picture or video to Facebook or Twitter.
So with the environment having moved on, where does that leave education? Universities have hopped on the bandwagon in some regard, with Oxford University in particular publishing encouraging statistics on engagement with their own podcast content. This however, and the majority of other Universities output consists mostly of recorded lectures, seminars, interviews and discussions. Indisputably valuable, but mostly exist as an alternative method of presenting 'traditional' content. The golden bullet of bespoke HE teaching through podcasts remains elusive.
The Open University and others have used the medium of online learning to create new ways of educating. Lynda.com and others leverage videos and screencasts to great effect for training and teaching. Codecademy offer guided simulations for programming and web development. Each of these emerging mediums has presented new opportunities and directions for teaching. What can podcasts offer?
Here in the Learning Design team, we'd like to give podcasts another look, to see what the unique advantages of straight-to-student syndication and casual consumption enable in terms of new ways of teaching. Its early days at the moment, but we're looking forward to sharing what we find with you.