Many students choose to study with the OU to build new job-related skills or take a step up in their career. But plenty more benefit from the employability focus of our modules even if they're not studying for career reasons. That's because we see employability as more than just about building skills – we see it a set of capabilities and achievements that support students in developing their careers, raising their aspirations and enhancing their contribution to society.
This is an inspiring goal and one that, to make a meaningful impact, needs to be considered throughout the learning design process. It's also the reason that the OU has an employability framework – a supporting structure that contains employability-related behaviours, values and attributes that students should have the opportunity to develop during their studies – and now also has a simple guide on how to use the framework (open in a new tab). In this post, we'll take a look at the guide and how you can use it.
The Employability Framework
The framework captures skills such as communication and collaboration, plus digital and information literacy and attributes such as self-awareness and global citizenship. It encompasses all levels of study and maps out how students' awareness and skills can build from level 1 to postgrad level. So far, so simple.
The challenge comes with embedding the framework into learning materials from the start so that employability isn't an afterthought but an essential. The new guide aims to overcome this by providing an at-a-glance guide to the framework plus practical guidance on building employability into learning materials from the start via learning design.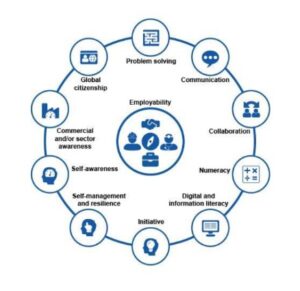 A practical re
s
ource
The guide includes prompts for module authors thinking about employability for the first time; for example:
reflecting on how employability is supported by academic and digital skills,
exploring how learning activities can build in employment-related skills,
mapping the points at which students will develop employment-related skills and articulate them,
examining how employability-related aspects of a module can be kept current.
Using the guide
As well as an overview of the framework and how it maps to the curriculum, the guide includes links to further sources of guidance. It also features prompt questions that can be used a starting point for a conversation between academic teams and learning designers. These conversations are an essential part of the learning design process at the OU, and it's likely that similar interactions are happening in other institutions. The guide is available to download on a Creative Commons licence – do take a look to see how it could transfer to your context. It may well help you explore and reflect on how study affects identity and empowers students to make changes in other areas of life, such as their careers, and help them make these changes.
Above all, the guide supports module teams in making employability explicit within their learning materials so that students can recognise, develop and reflect on their skills and attributes. After all, students tend to succeed when their learning is connected to their personal goals and employability – with its focus not just on careers but the wider impact of education on society – is a great way to help them do this.
Thanks
Thank you to Sarah Drea, Rosie Meade and Katharine Reedy for their help with this post.