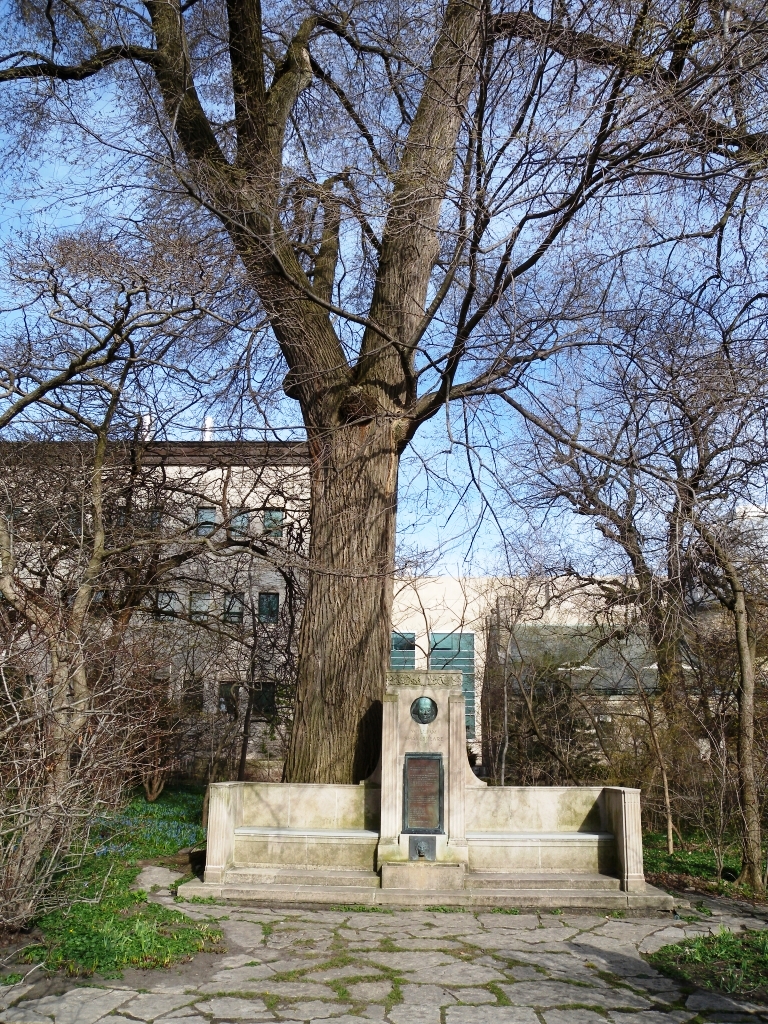 In the grounds of Northwestern University, situated in Evanston north of Chicago, there is a smallish formal garden, bounded by high hedges, and furnished with stone seats, a sundial, and a wall-fountain. It is usually deserted; the odd elderly lady, or sometimes a student, might pass through, although to judge by the green-blue shininess of the nose on the bronze bas-relief portrait of Shakespeare that presides over the fountain by the stone seats, it must be regularly visited. As a faculty member twenty years ago, I used to take my grading there without giving very much thought to the oddity of this garden, anomalous to the local garden aesthetic and clearly made in the teeth of Chicago's magnificently inhospitable winter and summer climate. On further investigation though, rather than being merely a picturesque oddity, this garden turns out to be famous in its own right as a 'Shakespeare garden,' made to commemorate the tercentenary of Shakespeare's death in 1916.
Designed in 1915 by the Danish-American landscape architect and conservationist Jens Jensen (1860-1951), it must have been cutting-edge for its time, for it was inspired by Francis Bacon's 'Essay on Gardens' (1625) and took the form of an Elizabethan knot-garden. The planting, carried out by the Evanston Garden Club, was more of a Shakespearean quotation-quiz than an exercise in botanic comprehensiveness: 'The flowers, shrubs, trees and herbs in the garden are mentioned in Shakespeare's plays and are varieties best suited to the garden's location and Midwestern climate.' According to the current website (www.thegardenclubofevanston.org), 'the more than 50 plants that can be planted' include 'rosemary, lavender, thyme, hyssop, rue, lemon balm, columbine, old roses, oxeye daisy, anemone, daffodil, pansy, poppy, nasturtium and marigolds. Parsley, holly, ivy, mint and peonies are also allowed.' (This accounts for the otherwise inexplicable nasturtiums I noticed in the early 1990s, although it does not precisely justify them.) The Elizabethan-style stone bench and the fountain, featuring a bronze relief of Shakespeare's head and suitable quotations from As You Like It, A Midsummer Night's Dream and The Winter's Tale, were relatively late additions in 1930. In taking refuge in the only garden in Evanston, I discovered to my amusement, I had unconsciously chosen to be transported home to England.
A hundred years on from the making of this tercentenary garden there are still some twenty-seven Shakespeare gardens in existence across the States, of which 16 are located in public parks or function as botanical gardens, 11 are attached to universities or colleges, and 4 are associated with Shakespeare Festivals. (I am not counting the garden attached to the Disneyland replica of Anne Hathaway's Cottage in which 'you are sure to meet Pooh Bear' as a Shakespeare garden.) These American gardens differ in their expressions of Shakespeare and Shakespearean authenticity, and differ too in their modes – ranging from the grandly public and patriotic through to the markedly feminine and sentimental. All, however, claim authenticity by twinning transplantation and quotation.
The popularity and longevity of the Shakespeare garden in America suggests how successfully it has solved the problem of the relation between the native soil of genius and the portability of genius's printed works, bringing Shakespeare home to somewhere he never knew.