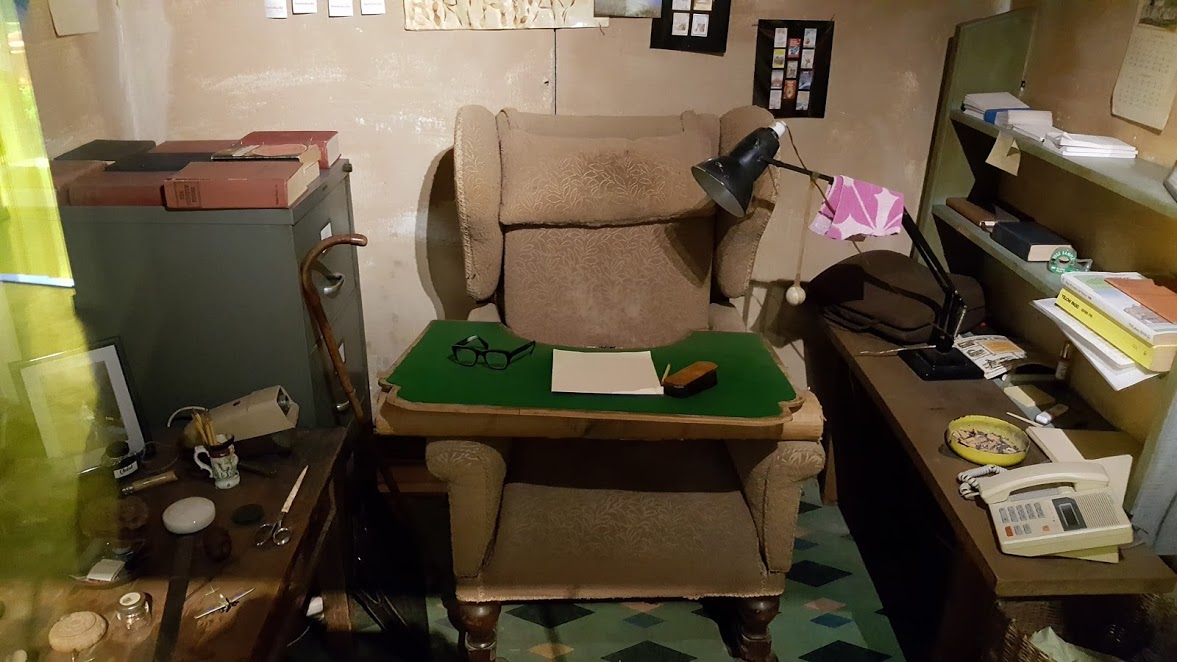 I've meant to go and see Roald Dahl's famous writing-hut for ages, and today is the day.  It's an excellent example of an author's writing-space presented as a place in which you can encounter the moment of creative genesis, which all the same works as a sort of elegy.  
Originally located at his home in Gipsy House, Great Missenden, the shed was relocated to the Roald Dahl Museum and Story Centre in the High Street in 2011. The original ground-plan was drawn out on a floor inside the centre and then the interior of the study was reconstructed behind glass.  An extensive display of mementoes (postcards, photographs, children's drawings, handwritten notes, hand-made gifts, geological curiosities, souvenirs, fragments picked up on travels, and surgical left-overs – the ball joint of Dahl's femur, shavings from his spine, joke items) are assembled there along with the writer's more mundane equipment (indigestion pills, pencils and rubbers, pencil-sharpener, a paper-weight, cigarette lighters, an ashtray, spectacles, spectacle-cleaning fluid, a highlighter pen, yellow sticky notes, pads of paper, reference books, an armchair, a writing board, a brush to clean the board, an anglepoise lamp, a waste-paper basket, a rug, a footstool and so forth.) It's shown just as it was when he worked there, just as he left it when he died.
The argument made by this careful reconstruction of stuff talismanic and mundane is threefold. On the one hand, it argues for the importance and idiosyncrasy of this as a place of creative genesis constructed by the writer: as Dahl would put it, 'my nest, my womb'. It's a statement, too, about the unglamorous, punishing and make-it-up-as-you-go-along nature of creative work through the anglepoise lamp balanced just-so by a golf-ball and a pink towel and the hole Dahl cut in the back of his famous armchair to ease his back-pain from an old war-injury. Writing is hard work, even if it is child's play. Finally, it argues for authorial presence in a macabre fashion that would definitely have appealed to Dahl: what sets this reconstruction apart from all previous such inventoried reconstructions of the author's desk is that, having carefully killed all the vermin that were thriving in the rotting paper, wood and upholstery, the conservators sterilised the dust of thirty years, and then sprinkled it across the whole as the final touch of authenticity. With this rather ghastly gesture, which effectively threw a thin scrim of Dahl's skin right across the contents of the shed, a fiction of perpetually-living creative origin is converted into an elegy for the dead writer.