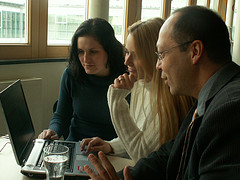 Coursera  calls itself a 'social entrepreneurship company' which aims to deliver online courses. Founded by two academics from Stanford University and funded to the tune of $22m by the computer industries, it claims to offer 'education for everyone' by providing courses from its partner universities. These include  the California Institute of Technology, Duke University, Johns Hopkins University, University of Virginia, Rice University, UC San Francisco, University of Illinois and University of Washington and also Toronto in Canada and the Ecole Polytechnique Federale de Lausanne in Switzerland. Coursera does not offer degrees, but students can be awarded certificates.
Edinburgh has recently joined it. There is a report in the Guardian. The Principal of the University of Edinburgh since 2002, Prof. Sir Timothy O'Shea has some experience in this area. He founded the Computer Assisted Learning Research Group at the OU, developed educational technology research at the OU and became an OU Pro-Vice-Chancellor before his move to Edinburgh. He retains close contacts at the OU.
Echoing the claims made for the OU in its early days the Coursera co-founder Prof Daphne Koller argued that allowing students anywhere in the world to study online is 'real democratisation'. Jeff Haywood, Edinburgh University's vice principal, knowledge management, also appears, from the press reports, to have paid little attention to the past. Rather marginalising his boss' former employer, the OU, said that Edinburgh sought 'to be in early' with online education. In addition, he asked a question that the OU might be able to answer, 'Will there need to be a mixture of online and face-to-face learning?' and, perhaps because he was unable to access IET data, he added 'We don't know enough yet about who will want to take these courses and succeed at them'.
If in the face of today's rapid and dramatic economic, social and environmental changes, the HE sector is to make sound and resilient decisions about its future, we need to understand the long-term historical trends and investigate the origins of online learning. Finding the roots of online learning could aid the growth of branches.
Photo made available by Wolfgang Greller under a Creative Commons Attribution 2.0 Generic License © Wolfgang Greller