Job Seeking Navigation Pack
Posted on • Career planning, CVs and applications, Graduate opportunities, Interviews and assessments, Jobs, internships and work experience
Looking for work and need help? We're hearing this from many OU students and alumni in these challenging times, so we've put together this Job Seeking Navigation Pack. It brings together the resources you need to set you on your way.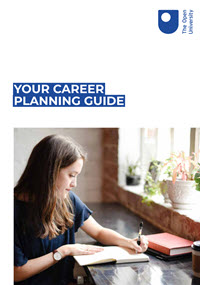 1. Map out your journey
Every journey starts with a single step, but it's good to know where you're heading. Before diving straight into applications, planning helps focus on what you need to do and keeps you motivated. Your Career Planning Guide is a great place to begin.
Schedule regular job searching time into your routine.
Virtual recruitment is part of the new normal. Discover the STAR technique and practice your remote interview skills.
If you have a disability or health condition, Section 5 of Your Career Planning Guide helps you build confidence in discussing reasonable adjustments with potential employers.
2. Get to know your terrain
Discover the labour market and find roles that match your passions and skills.
It's a big world out there. Not sure where to start? Check our job seeking page. It links out to useful regional websites to find options wherever you are.
OpportunityHub is the OU's exclusive portal for graduate jobs, internships and other opportunities. Employers want to meet you, so log in regularly and follow organisations you're interested in.
Start networking using LinkedIn, other social media, online events and directly. Watch our webinars on How to network and use social media for your career. By speaking to people within your chosen sector, you may find that opportunities start to come to you.
Find out what's happening in the work sectors you're interested in; look online for news articles, social media posts, and browse the websites of professional bodies and associations.
It's especially useful to discover which sectors have been more affected by covid-19, explore those that are bouncing back and figure out how you can transfer your skills where they're most needed. Learn more about how to be agile in your plans in the free OpenLearn course Developing career resilience.
3. Arrive successfully at your destination with a winning application
Employers value OU students for their skills from previous experience as well as study and you are no exception. Make sure you know your transferrable skills, understand their relevance to the specific role you're applying for – and spell it out in your application. Capita Technology Solutions recently gave this advice:
Always adapt your CV so it's specific to the role you're applying for – make that small amount of effort to show you have a genuine interest.
Refresh your CV and make your transferrable skills shine. Section 4.6 of Your Career Planning Guide has lots of tips and our CV builder can make it easier.
Gain confidence in evidencing your skills and experience against the job criteria in CVs and applications on our Presenting your skills when applying jobs page.
What would you hope for in a candidate for this role? To help you think like a recruiter, explore 'How your last hire impressed you' in the Video Hub via the CV builder platform.
Good luck with your applications and remember that we are here to support you through your student journey and three years after you qualify.
Tell us how useful you found this toolkit with our 5-minute feedback survey and help us help more OU students become career confident.