It's almost exactly two years since we published a blog post introducing Adam Parker, who was then at the beginning of his PhD on Roman magic. Time flies, and Adam is now in his third year of part-time study. We're delighted to share news of a recent publication entitled 'Material Approaches to Roman Magic: Occult Objects and Supernatural Substances', which Adam co-edited with another (recently graduated) OU PhD, Stuart McKie. 
Adam writes:
"My research is on the archaeology of magic in Roman Britain. It's a material-led study which is looking at a broad range of different object types from this province in order to establish chronological, spatial, material, and contextual relationships from within this large data-set and it has the ultimate goal of trying to understand what magic was in this period and what function it served for those who used it. Stuart McKie's PhD (2017) was on The Social Significance of Curse Tablets in the North-Western Provinces of the Roman Empire.  He is now a Lecturer in Classics and Ancient History at the University of Manchester. We both share a strong belief that material culture analysis has the capacity to revolutionise our understanding of Roman magical practices and that this publication will help to draw the subject into the paths of 21st Century theoretical models, archaeological practices, and analytical techniques.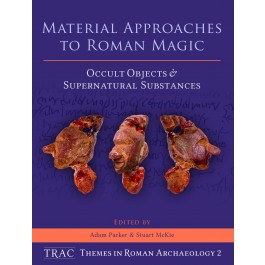 The core of this book comes from a panel held at the Theoretical Roman Archaeology Conference (TRAC) 2015 entitled "Charmed I'm Sure: Roman Magic – Old Theory, New Approaches" . One of the most exciting features of that panel was the coming together of university academics, postgraduate students, professional archaeologists and museum curators in the pooling of ideas and approaches to Roman magic. The volume has maintained that variety and energy, with papers from five of the original contributors plus further articles from authors working in the same wide range of professions. Our aim with this collection of papers is to further develop some of the ideas presented at TRAC 2015, particularly the focus on materiality and embodied experience of magic in the Roman world. At the core of this volume is the contention that fine-grained artefact analysis has great potential to offer new ways to understand ancient magic practices."
—
You can order the book via the Oxbow website, and read a summary and the table of contents below.
Congratulations, Adam and Stuart!
—-
This second volume in the new TRAC Themes in Roman Archaeology series seeks to push the research agendas of materiality and lived experience further into the study of Roman magic, a field that has, until recently, lacked object-focused analysis. Building on the pioneering studies in Boschung and Bremmer's (2015) Materiality of Magic, the editors of the present volume have collected contributions that showcase the value of richly-detailed, context-specific explorations of the magical practices of the Roman world. By concentrating primarily on the Imperial period and the western provinces, the various contributions demonstrate very clearly the exceptional range of influences and possibilities open to individuals who sought to use magical rituals to affect their lives in these specific contexts – something that would have been largely impossible in earlier periods of antiquity. Contributions are presented from a range of museum professionals, commercial archaeologists, university academics and postgraduate students, making a compelling case for strengthening lines of communication between these related areas of expertise.
Table of Contents
1. Introduction: Materials, Approaches, Substances, and Objects
Stuart McKie and Adam Parker
2. The Medium Matters: Materiality and Metaphor in Some Latin Curse Tablets
Celia Sánchez Natalías
3. Phallic Magic: A Cross Cultural Approach to Roman Phallic Small Finds
Alissa Whitmore
4. Little Bottles of Power: Roman Glass Unguentaria in Magic, Ritual, and Poisoning
Thomas Derrick
5. Victory of Good over Evil? Amuletic Animal Images on Roman Engraved Gems
Idit Sagiv
6. 'The Bells! The Bells!' Approaching Tintinnabula in Roman Britain and Beyond
Adam Parker
7. Rubbing and Rolling, Burning and Burying: The Magical Use of Amber in Roman London
Glynn Davis
8. Linking Magic and Medicine in Early Roman Britain: The 'Doctor's' Burial, Stanway, Camulodunum
Nicky Garland
9. The Archaeology of Ritual in the Domestic Sphere: Case Studies from Karanis and Pompeii
Andrew Wilburn
10. The Legs, Hands, Head and Arms Race: The Human Body as a Magical Weapon in the Roman World
Stuart McKie
11. Amulets, the Body and Personal Agency
Véronique Dasen