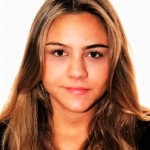 When I received an email from Christine Plastow asking for help to organise this year's Work in Progress Day at the department, I didn't hesitate for a second! My experience presenting in last year's WiP Day was so rewarding that I was sure I wanted to get more involved with this year's event. Fortunately, I wasn´t wrong. As a co-organiser of this year's conference as well as one of the presenters, I think I speak on behalf of all the attendees when I say that the WIP day celebrated on Wednesday 9th May by the OU Classical Studies department was especially stimulating and unique! We had the pleasure to count on three very different but at the same time complementary panels that demonstrated how varied and rich is the research carried out at the department.
 
Christine Plastow introduces the day.
The day began with a very nice cup of coffee, where all the attendees had time to catch up with the latest news and updates and meet some new faces. Senior OU lecturer Emma-Jayne Graham recently shared with me how great it was to meet and have a chat with so many enthusiastic students and colleagues. Indeed, in my case it was really nice to meet fellow students who started their PhDs at the same time as me and see how things are progressively developing.
After the nice welcome, the seminar began. Christine and myself wanted to have a dynamic and approachable conference where everybody could have a chance to speak and feel welcome to share their views; as Christine said, 'all of us are doing some work in progress and all of us are researchers no matter the stage'. We thought that it would be nice to break the ice with a group discussion on the joys and perils of post-graduate Classical Studies and how to move forward in academia. In my own experience, it is really difficult to find the chance to listen to what comes next after finishing a Classics MA or a PhD. So, it was very beneficial to have a nice conversation in a friendly environment where everybody could share their hopes and fears about postgraduate research. Even more interesting was to hear the experiences of Christine Plastow and Jan Haywood. Both of them are early career researchers that have recently become part of the OU family and commented on how they got into the Classical world almost by chance, to later make it their profession.

Jan Haywood describes the first open discussion session.
This nice discussion led towards the first panel of the morning and perhaps the most 'traditionally classic' session regarding Classical Studies and Classical Reception. I am very proud myself to have chaired such a stimulating couple of presentations. First Elizabeth Webb, who also contributed to last year's WIP, gave a fascinating talk titled: 'Collective and individual emotion: Thucydides' presentation of emotions in the History of the Peloponnesian War'. Following Elizabeth, Claire Greenhalgh provoked the reflection of all attendants with her presentation: "Rape in the depiction of female slavery in HBO's Rome and Starz's Spartacus". Both papers raised very interesting thoughts regarding the depiction of emotions not just in Greek text but also in other visual media such as sculpture. This discussion fitted nicely with the latter debate on how current perceptions of visual violence and especially sexual violence against women have changed.

Liz Webb summarises her paper on Thucydides and emotion.
After lunch, the seminar continued with the staff spotlight panel chaired by Christine Plastow. Again, as a student, it is not very common to be able to attend presentations regarding the research curriculum of your institution and even less common to do so in conjunction with the presentations of postgraduates. Because of this, it was especially inspiring to listen to the ongoing research of the department staff. Elton Barker kicked off the session with his introduction on 'Homer´s Thebes'. Joanna Paul followed with a brilliant presentation on her work on the receptions of Pompeii under the title 'In search of the lost city: ongoing explorations of Pompeii and its contemporary reception'. The session continued with the Roman experts of the department including Ursula Rothe´s fabulous exposition on 'The toga in the Roman culture' and Emma-Jayne Graham's presentation about 'The thingliness of Roman religion'. Finally, Christine Plastow attracted the audience´s attention by speaking about 'Space, place and identity in the Athenian forensic oratory'.
The final session of the day was thematically oriented towards Digital Humanities and Digital Classics. It highlighted the active role that the Open University has recently taken in collaborating with Digital Humanities projects. Sarah Middle opened the panel speaking about her work on "Linked ancient world data and user research: methods, frameworks and challenges". It was followed by my own presentation on one of the sections of my PhD research, the development of a Linked Open Database of coins from the Iberian Peninsula. The closing paper for this session was delivered by Francesca Benatti, OU Research Fellow in Digital Humanities. In her presentation, Francesca highlighted the supportive role that the OU Digital Humanities group has developed with so many resources and opportunities for training available for postgrad students. I found it really interesting to hear about the many DH projects in which the OU collaborates including Pelagios, Hestia, Classics Confidential, The Reading Experience Database, and Open Arts Archive. These three presentations showed how useful digital resources can be when applied to humanities research and especially classics. Most of the attendees demonstrated their interest in the digital world and showed how engaged they were by asking really thought-provoking questions regarding Linked Open Data and the dissemination of digital research.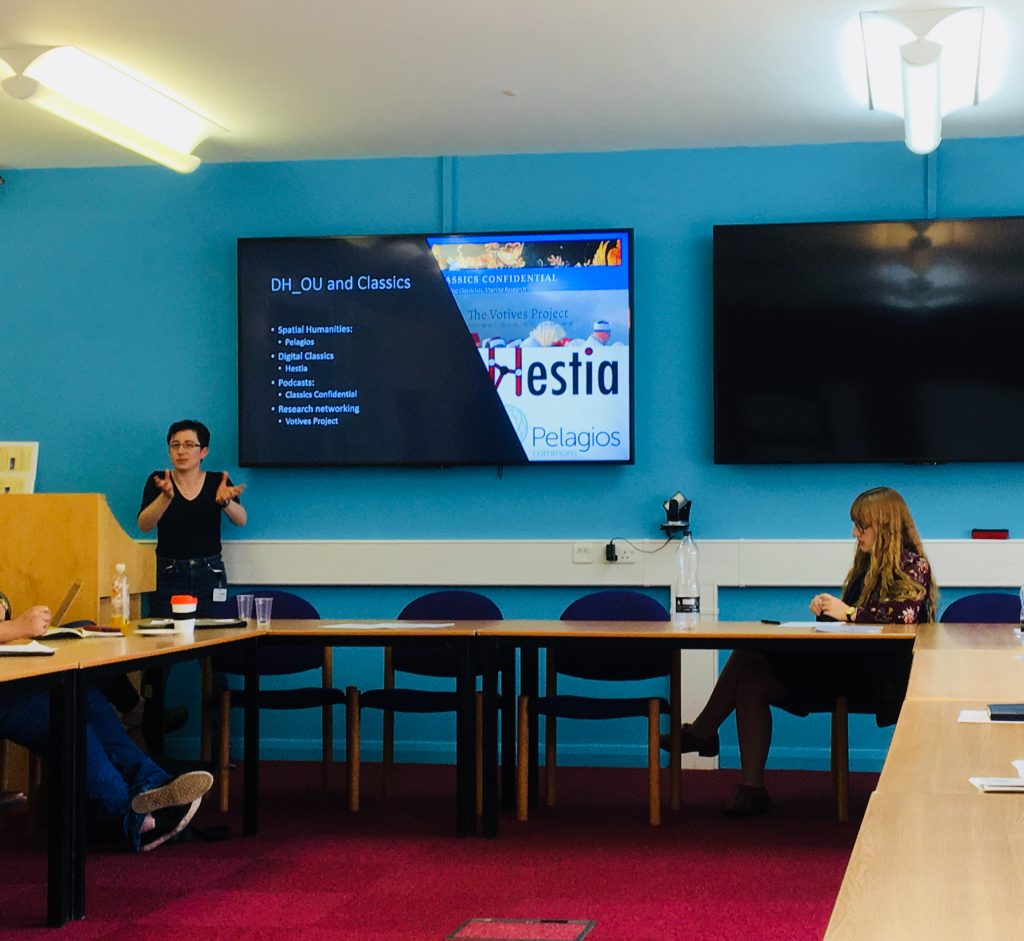 Francesca Benatti presents on digital tools, resources and projects.
In my subsequent conversations with the delegates, all of them highlighted the high standard of all the presentations and how much they enjoyed the friendly environment and the possibility to share their views and thoughts. I think that one of the most remarkable features of this year's WiP Day is how the students´ current work was nicely intermingled with the staff research agendas and all of that framed by a warm conversation on how to develop a career in Classics. I would also like to acknowledge here the brilliant work of OU lecturer Jessica Hughes who recorded and tweeted small voxpops of some of the attendees speaking either about their collaboration in the event or their current work in progress. These short recordings were a step forward with regard to the visibility of the session. As Sian Beavers remarked at last year's WiP Day, perhaps in the future we will be able to record the seminar and make it available for those who can´t attend in person. I am aware that Sian wanted to be there this year but couldn't make it for personal reasons, we missed you!
Perhaps, most of all, this day was an opportunity for interesting discussion and for students and staff to get to know each other a little better and keep building a stronger community within the department and the OU in general. I want to express my eternal gratitude to Christine Plastow for making everything so easy and to all of the speakers and attendees for making such a fantastic day where everybody had a voice. It has been a wonderful and very enriching experience for me and I hope to see you all again at next year's WiP Day.
by Paula Granados Garcia