OU PhD student Sophie Raudnitz reports on the 7th annual postgraduate interdisciplinary conference hosted by the University of Leeds.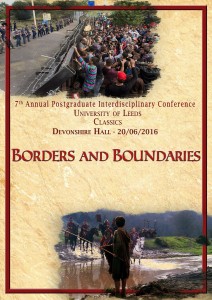 On Monday 20th June, in a week when the issue of national borders and where we draw them was the focus of such intense political attention, I was delighted to attend the 7th Annual Postgraduate Interdisciplinary Conference at the University of Leeds, entitled Borders and Boundaries. The aim of this conference was to bring together postgraduate students from different disciplines and different universities to think about borders—cultural, social, psychological and geographical—how we define them and how they are or might be transgressed.
The conference took place at the beautiful Devonshire Hall in Leeds and was hosted by the Classics Department. There were two short keynotes speeches, one from Dr Ingrid Sharp from the Department of German and the other from Dr Emma Stafford from the Department of Classics, both of the University of Leeds. Dr Sharp spoke about 'Crossing Gender Boundaries: Expressions of Feminist Rage in German Crime Fiction' – a thought provoking and entertaining look at the way in which German feminist crime writers use humour as a way of affirming rather than denigrating women's existence. Dr Stafford spoke later on 'Thinking About Impact' and research which crosses the boundary between the academic setting and the wider world.
The programme was packed, with five sessions timetabled and two panels running simultaneously in each. Panel topics included 'Human and Divine', 'Aquatic Boundaries', 'Home and Away', 'Intertextuality' and 'Memory'. Though most speakers were classicists, we also heard papers about wearing the veil as a Muslim feminist issue (by Sadia Seddiki, University of Leeds) and 'transnational', as opposed to 'global' memories of the Holocaust (by Jade Douglas, University of Leeds). I especially enjoyed Jade Douglas's paper as her study of transnational Holocaust memory intersected with my own research in very interesting ways but as usual with conferences of this kind, just hearing the range of topics which people are researching, and the energy and enthusiasm with which they speak about them, is inspiring in itself. Given this, it seems churlish to mention individual papers but highlights for me included Natalie Enright (University of Leeds) speaking about 'Crossing Psychic Boundaries: Humoral Infection of the Soul in Plato's Timaeus', Devon Allen (University of Leeds) discussing 'To What Extent is There a Mythological influence over the Folkloric Type of a Mermaid' and Maria Haley (University of Leeds) on 'Beyond Justice: Atreus' Transgressive Revenge in Greek Tragedy'. You can read Henry Clarke's Storify of tweets from the event here.
My own paper, the last of the day, was on 'The Politics of Empathy: a Memory-Centred Approach to Euripides' Trojan Women' and it suggested that the notion of empathy might unite political and aesthetic approaches to tragedy but also might be a way into reading across genres and considering, for example, discussions around the legitimacy or morality of Holocaust fictions. The paper centred on the ways in which rhetoric generates empathy to sway political responses, and giving it at this conference on Borders and Boundaries, attended by delegates from across the EU, in that week when political rhetoric regarding borders and immigration was at its height, I could suddenly feel its 'impact'.
In all these respects, it was a very worthwhile trip. It was also great to compare experiences with postgraduate students from other universities and to meet people face to face I had hitherto only met on Twitter. My thanks to the committee from the University of Leeds Classics Department, and to Natalie Enright in particular, for organising such a great day.
by Sophie Raudnitz