What's the best way of celebrating the end of the academic year at a distance-learning institution like the Open University? We can't exactly take all our thousands of students to the pub (!), so we need to think creatively about how to collectively 'wind down' after the end of exams… as well as how to support students as they start to think ahead to their next modules or qualifications.
This year, the Arts Faculty tried something a bit different – a two-day academic Arts event that was broadcast live from a studio on the OU campus in Milton Keynes. The 'Arts Student Hub Live' (Friday June 10th – Saturday June 11th) involved a team of producers and OU staff and students getting together to create a jam-packed programme of live chat shows, quizzes and interactive 'study support' sessions – all designed to help our Arts and Humanities students take stock of their achievements over the past year, and find out more about the various subjects, modules and degrees offered in the Arts & Humanities programme.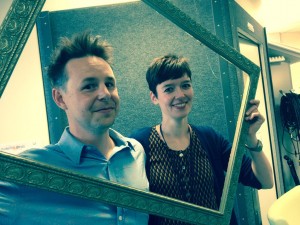 It's difficult to express quite how much fun and hard work it was putting the event together, but you'll be able to get some inkling from the videos on this webpage. Our main Classical Studies session involved Jess Hughes and Henry Stead rustling up a lunchtime 'Classical picnic', which they shared with the Hub presenter Karen Foley and her pet rhinoceros. Radishes, retsina, dates and Ambrosia rice pudding were just some of the delicacies that we used to showcase the diversity of Classical Studies and introduce our tempting undergraduate curriculum.
Other sessions with a classical theme included Henry's talk about Creative Writing, and Jessica's discussion with Dan Weinbren about 'Myths of the early OU' (think Pygmalion and Educating Rita). We've embedded those three videos here, but you can find all the sessions from the event on the Student Hub Live website. And if our picnic video inspires you to learn more about our Classical Studies modules, you might like to try some tasty taster materials on our department website.
---
(Follow this link to access the whole Arts Hub Live programme)
Classical Studies picnic
Myth and Storytelling
Creative Writing
ps. The Student Hub Live is on Twitter. Follow @StudentHubLive for notifications of future events.