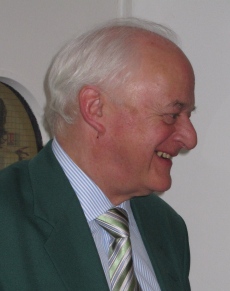 I joined the Open University in 1970 straight from doing research in Cambridge.  I was the only Englishman in the department which had three Scots, all from Edinburgh: Professor Arthur Marwick; Christopher Harvie, a lecturer like me; and Neil Wynn, Arthur's research student.
I wasn't entirely sure what to expect, but the job seemed a bit of an adventure in as much as it was planned as a university that was going to teach at a distance and work alongside the BBC in preparing radio and television programmes to accompany the written material.  Arthur Marwick was a 'character' – he loved football, wine and women (I'm never entirely sure what the order of preference was) and he believed that he had the infallibility of a Pope.  But he had also thought deeply about the teaching of history and how it might be done at the OU.  When I went for my interview at the beginning of February 1970, he had written two units – the first ever teaching units produced, admittedly in draft but when I attended my first Faculty meeting everyone else seemed to be sitting round the table still wondering how they might write their material.
Equally important to the writing of the course were two members of the Institute of Educational Technology established at the OU and whose task it was to make us think about how to construct courses and how to make them guide students towards their degree.  Arthur was already well along this path, but it was stimulating to think of the aims and objectives of each course, each unit within the course and how they cross-referenced and linked together.  I don't think that anyone who taught me at the University of York, where I was one of the first 150 undergraduates, good as they may have been (and several were excellent) ever considered these issues.  I felt completely thrown off guard in one of the first course teams for which I worked by being asked what I expected students to be able to do when they had read my units and the course as a whole, that they could not do before.  Most, if not all universities construct aims and objectives now, but in 1970 there were very few.
A lot of academics in other institutions were quite disparaging of the OU.  They considered that we spoon-fed the students.  Shortly after my appointment I was invited back to Cambridge for a formal dinner.  It was not my old college, but I was faced at High Table by a young Fellow historian who was clearly a critic of what the OU was doing.  After getting a smug earful from him, I couldn't resist asking him what he expected someone to be able to do when they finished a History Degree at Cambridge.  He coughed, huffed and puffed, and finally came out with "I suppose they should be able to use a good library like the Cambridge University Library."  Wow!
In addition, there were problems about what some people assumed our politics to be.  In 1972 we produced an interdisciplinary course called the Age of Revolutions.  A worried MP raised a question in the House of Commons about whether the Secretary for Education was aware that the Open University was recommending as a set book something written by a self-confessed Marxist, namely Eric Hobsbawm.  My colleague Chris Harvie was invited to the Commons on the strength of this. But Chris never forgave me because in the television programmes that accompanied the course, he shot a television programme in Oldham (at least I think it was Oldham) as he had written about the Industrial Revolution, whereas I got to travel to the United States and Paris as I had written about political revolutions.
In the early years the radio and television producers were members of course teams and, consequently the programmes were closely tied into the courses. The radio programmes were often there to get students to hear leading academics express their ideas and sometimes to argue with each other.  They also enabled young historians like me to meet and talk to these leading figures about their work; Edward Thompson, for example, who wrote The Making of the English Working Class – a book that had a profound influence on social history when I was an undergraduate and long after – gave me a wonderful 30-minute tutorial in a taxi from the studios at Alexandra Palace, and I stayed in touch.
The history television programmes were designed to take people to key areas and show sights that they probably would learn nothing of on a tourist trip – the traboules of old Lyon for example, covered ways between streets that enabled the city's silk weavers to carry their precious woven cloth from their home on their master or the merchant without risk of rain damage.  In the French Revolution the same passageways were useful to counter-revolutionary murder gangs, and 150 years later during the Second World War they were used by members of the French Resistance to disappear from one street and emerge in another.  The TV programmes also enabled us to get students to think about film as an archival source, and when dealing with 20th-century issues to ensure that the film we employed was not just wallpaper but added to the issue under discussion.  It was sad to see this policy disappear as the BBC programme makers ceased to be course team members and went back to using film as wall-paper.  I recall a long and heated exchange when a director decided to cover an account of members of the German Army destroying French school-books in Alsace-Lorraine during 1940 with shots of Nazi Brown-shirts burning books in Berlin several years earlier.
Working with the BBC also opened up sources for us that we might otherwise have missed for our own research.  In the early 1990s while making a film about 19th-century Italy the director and I were talking with some officers of the Carabinieri who told us about their archive in Rome.  I manged to get the script doctored a little so that we could get into the archive and the corps museum, subsequently I was able to go back and do some serious research in the archive for a book that I had been thinking about doing on Gendarmerie-style policing in nineteenth-century Europe.  My problem when I organised my return to Rome was that the Carabinieri who ran the archive had no way of letting me pay for photocopying, but they hinted that they enjoyed a good malt whisky. I managed to get the whisky (technically under the heading photocopying) paid for out of my research grant – probably not something that you could do today and the Carabinieri have woken up to this and now the officers in charge insist on two copies of any publication that follows work in the archive, though I dare say that the bottle of single malt whisky still significantly aids the research.
In addition to the teaching units and the broadcasts, students were required to attend a one week summer school for some intensive teaching and seminar work.  Members of staff were required to do two weeks of summer school.  It was exhausting as many students sought to have a year's worth of face-to-face teaching in six days – and some combined it with a year's worth of partying.  But one statistic that we found interesting, at least in the History Exam Boards, was how a large number of students' grades jumped upwards in the assignments that they did after the summer school.  I can understand why the summer schools have gone, but it is also a great loss.
I suspect that as you get older (and certainly in my case more curmudgeonly) the past has a rosy glow.  The requirement that every course be the same length is one example. I remember a directive giving precise lengths for units that were the same for History as for Maths, and I still cannot fathom this.  My best man at my wedding got a PhD in Maths at Cambridge and his thesis was about one third the size of the average History thesis.  One size does not fit all in teaching.
Arthur Marwick had individual meetings with us to find out how we were coping with the teaching, what research we were doing and how it was going, and if there was anything that we felt we needed for our work.  This was unofficial, but then came the annual appraisal which had to be signed off by the Dean and forwarded up to others not in the faculty.  The more formal annual appraisals always had a box at the end saying what would help improve your performance and that your request would be answered and acted upon.  A couple of bloody-minded individuals that I used to appraise with this form always used to write something in that box, but we never received any response.
Much of the above has shown my annoyance at the way things have developed – but it is not only the Open University where the box-ticking has become ridiculous.   Things have to change given new technologies and I am full of admiration for the material that the historians at the OU produce and the ways in which they do it.  I used to think that I had the best job in the world – I hope that they do now.