Dr. Amanda Goodrich and Dr. Luc-Andre Brunet will be the primary supervisors for two new OU PhD studentships, through the AHRC Open-Oxford-Cambridge doctoral training partnership. The studentships will be held in collaboration with two institutions, the History of Parliament Trust and Cambridge University Library.
The recent 75th anniversary of the D-Day landings underscored the importance of the Liberation of France in the history of the twentieth century. This PhD project aims to make use of the Cambridge University Library Chadwyck-Healey Liberation Collection to explore particular aspects of France during the Second World War, the Liberation, and/or in the immediate post-war period (1939-1946). The Collection consists of about 3000 books and pamphlets in French on these subjects, published from the Liberation of Paris in August 1944 to the end of 1946, encompassing a wide range of material, including novels, poetry, illustrated books, photographic albums, literature for children, testimonies from the camps, military works and political publications.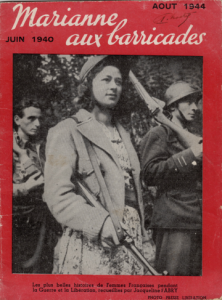 There is today a move to restore Black and mixed ethnicity (BME) people to their rightful place in British history. Historical attention has primarily focused on the narrative of slavery and abolition. Much has been written on the lives of Africans who migrated to Britain after escaping slavery such as Olaudah Equiano, Ignatius Sancho, Quobna Ottobah Cugoano and Mary Prince. The BME offspring of local slaves or indigenous women and British men in colonies such as the West Indies or India, who were brought 'home' to Britain, have also received some attention. The engagement of BME men in extra-parliamentary politics has been explored through the writings of Equiano and Cugoano on reform politics and the roles of Robert Wedderburn and William Davidson, and most recently Henry Redhead Yorke in extra parliamentary radical agitation. Yet few BME individuals have been identified in extra-parliamentary or formal British politics.
This doctoral thesis will aim to identify, quantify and analyse the BME presence in British politics and political culture more broadly, employing both quantitative and qualitative methodologies. It will potentially explore both houses of Parliament, constituency elections, local government and extra-parliamentary politics, to identify BME individuals, noting any fluidity between the sectors of engagement. In addition, the term 'presence' will include their methods of engagement with politics, ideas, influence and networks. The representations of and about such individuals by others and in the press may also be explored. Slave abolition will need to inform an element of the study, but it will not be the focus. In order to incorporate all relevant ethnicities the term BME will be defined with the doctoral student.