We are delighted to present our latest Innovating Pedagogy report, co-authored by academics at the Institute of Educational Technology together with researchers from the Centre for Innovation in Learning and Teaching at the University of Cape Town.
Download the report: Innovating Pedagogy 2023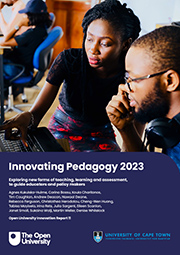 Suggested citation:
Kukulska-Hulme, A., Bossu, C., Charitonos, K., Coughlan, T., Deacon, A., Deane, N., Ferguson, R., Herodotou, C., Huang, C-W., Mayisela, T., Rets, I., Sargent, J., Scanlon, E., Small, J., Walji, S., Weller, M., & Whitelock, D. (2023). Innovating Pedagogy 2023: Open University Innovation Report 11. Milton Keynes: The Open University.