Whilst we carry out fixed and clearly defined Learning Design activity as part of our core offer, we can also provide more hands-on input aimed at supporting module teams with specific challenges they are facing with their design. Below are three such examples where we've provided support to help module teams to progress either with a specific tool, or with broader aspects of Learning Design.
Guiding Authors
Chris Cox
For one FBL module, several challenges had been identified in the Learning Design Workshop in the early stages of development. I'd focused my attention on a few key areas to take forward into the LD Plan. However, it became clear that more guidance on writing and structuring the learning was needed. Plenty of guidance and resources were available on their workspace, but the team needed something more immediate.
In consultation with my colleagues, I decided to take TEL101 – a module designed to introduce staff to Learning Design and what we do – and adjust it for the team. The module was quite short, so matched the shorter study weeks one of the modules needed – and was well structured to deliver learning while engaging students with different activity styles at a deep level. I took a copy of TEL 101, and produced a 'behind the scenes' commentary version – each important LD point was highlighted and design principles explained, to help the team think about how to write, balance activities, tie activities to learning outcomes, and show good practical examples of LD.
I also produced a visualisation to provide them with a starting point and approach to writing that they could come back to, and a chart coding activity types – a pedagogic map of the invisible, underlying structure of the module to help them think better what each activity a section was achieving to help students stay on course and succeed.
I presented these at a Module Team meeting, which the authors found helpful – and the visualisation helped things click. And now the LD team have another tool – 'LD101 Behind the Scenes' – to help guide module teams in a similar position.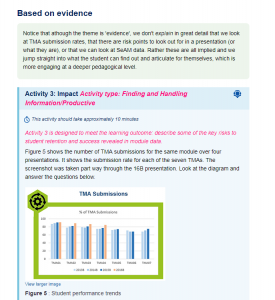 OneNote for PDP
Dot Coley
Soon after joining the team, while researching how OneNote could be used as an ePortfolio tool for one of my FASS modules, I joined forces with Sue Lowe to share knowledge and to support the WELS PDP pilot. The benefit was two-fold; drawing on existing experience to feed into my FASS work and using my technical background to explore the impact of potential compatibility issues for the existing pilot.  Part of this included joining our academic partners in delivering PDP support tutorials, not only assisting with immediate issues, but also helping to keep focus on who our students are and what challenges others may face in the future.
During this piece of work, another FASS academic colleague requested advice on using OneNote, and I took the lead on advising how it may work in practice. I used my previous research to present key information alongside a practical demonstration of the WELS pilot templates to show how flexible OneNote is, and how notebooks can be structured to meet individual needs.  I also introduced the Curriculum Design Student Panel and explained how they can help with testing early concepts.
Explaining how the approach has been used elsewhere provided an opportunity to use evidence of what has worked so far and what challenges we have faced. I was also able to talk about how the WELS pilot ran alongside live modules – with a smaller group of students – ahead of implementing it more widely, but I used ICEBERG to emphasise the importance of embedding reflective activities into the learning journey and allowing for them within workload planning.
Linking the concept to use on a whole qualification, I expressed the importance of starting gradually in Level 1, scaffolding students in their reflection and reducing support throughout the duration of the qualification so that by the end of Level 3 they can reflect independently—which is especially important for those moving on to study at Postgraduate level.
Further work is continuing in WELS, and a new phase is now underway. I am supporting the academic team on a Teaching Excellence funded project aiming to train previous pilot students to become PDP coaches, offering peer-to-peer mentoring.
Helping a module team to get 'unstuck'
Katharine Reedy and Mark Childs
A degree apprenticeship team was struggling to make progress with designing the 'practice' module at the start of the qualification. This was due to the sheer volume of content that students need to learn. By mapping skills content across both level 1 modules, and visualising the high-level student journey in terms of how they would engage with the material, an approach was found that enabled the team to come up with a workable structure for module 'blocks'. This was achieved in a workshop facilitated by two Learning Design team members, which enabled the module team to think through the whole student learning journey and come to a consensus about what skills they need to develop and use at each stage.