Rather than rake over the current indulge-fest that is the will-they-won't-they of the Sunak deal with the EU over the Northern Ireland Protocol (although you can read my thoughts elsewhere, here and here), I notice it's the time of the month to check back in on retained EU law (REUL).
Long-standing readers will know that since the middle of last year, I've been giving a damn about following the government's published data on the project of working through all remaining pieces of legislation,  project that gained urgency with the Retained EU Law Bill that I've discussed a few weeks ago.
The visualisation provided has painted a picture of slow progress to date: between the first publication of the data in late June 2022 and the end of January this year, the only update was to correct one error. Otherwise, there was not a single instance of amending, repealed or replaced an item of REUL noted.
The simplest explanation was that the person who'd built the visualisation simply hadn't had time (or been bothered) to update things. However, given that in the 19 months between leaving the EU and that first publication only 17% of REUL had been changed in some way, it might also be inferred that this was both a slow process and one where there actually was a good reason to keep the relevant REUL.
However, the REUL Bill has now set up a situation where all the remaining items need attention, since they would be otherwise automatically sunsetted/sunsat at the end of this calendar year.
As I noted in my previous post, part of the problem was the announcement by the National Archives in November that there was a significant additional volume of REUL that had been identified.
Despite all this incentive, the visualisation ticked on, in the narrow sense that there were no updates.
Until earlier this month, when a major upload took place.
This update took a while to properly populate the visualisation, but now we have a new snapshot of progress.
Significantly, all that extra REUL has now been brought into the mix. Almost all of it falls within DEFRA's remit; a reflection of the extent to which agricultural policy had been centralised during EU membership, obscuring the operation of particular pieces of EU law.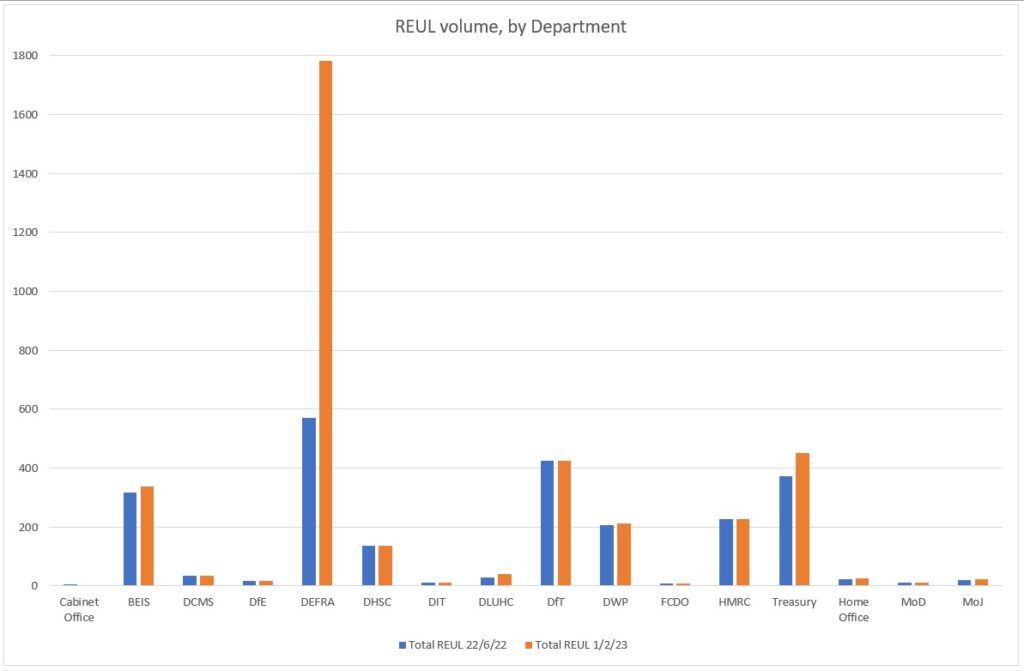 That addition meant that there is no more unchanged REUL properly on the books than at any time since withdrawal.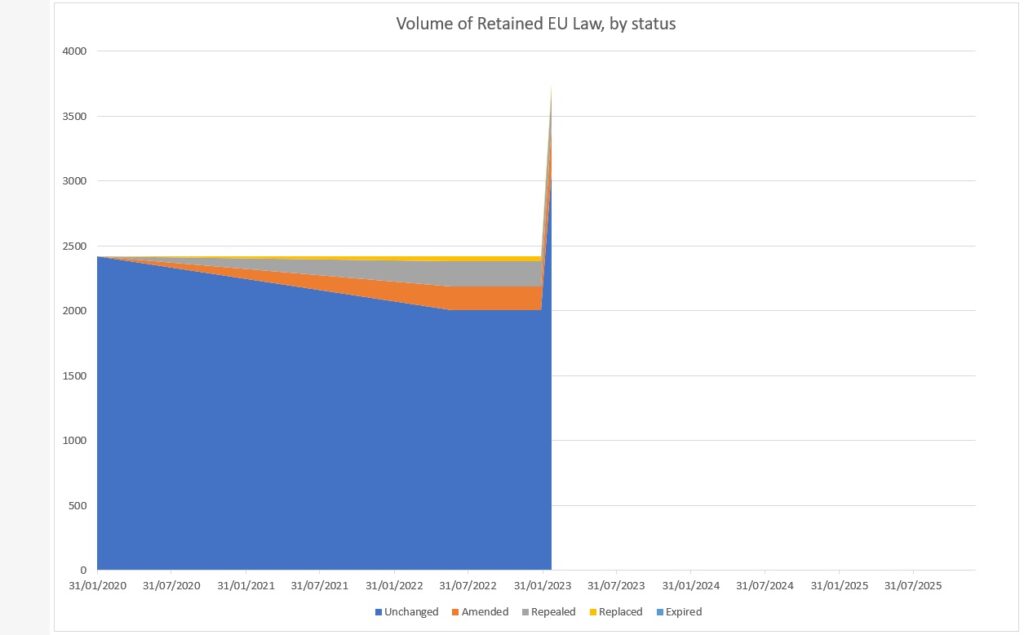 However, that change in baseline does obscure some other important developments. If we assume that the newly-identified REUL has not been attended to (both because they only just found it and because that implies it wasn't mission-critical), then we can see a big jump in REUL that has been changed.
In January 2023, before the update, 411 items were recorded as amended, repealed, replaced or expired, while one month later we have 671 items, a 63% jump. Again, we might sensibly assume this is the cumulative effort since June 2022 rather than some Stakhanovite push to please ministers: future month's updates will tell us more on that front.
Consequently, the percentage of unchanged REUL did drop, albeit by a modest 0.8%.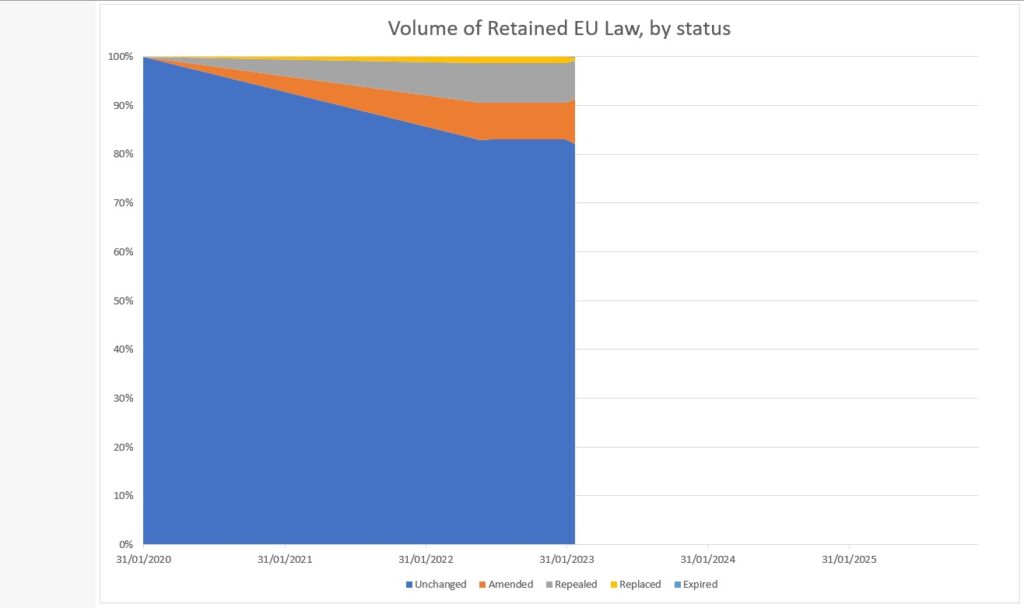 Progress on this remains highly uneven at Departmental level. The only units that have made very big advances have been some of those with the smallest totals (Cabinet Office, DfE, MoJ). This is likely to be less a reflection of political will as it is a function of the depth of entanglement of the Department in matters EU during membership: Steven Barclay is hardly a soft Brexiteer yet his Department of Health and Social Care has the highest percentage of unchanged REUL of any unit.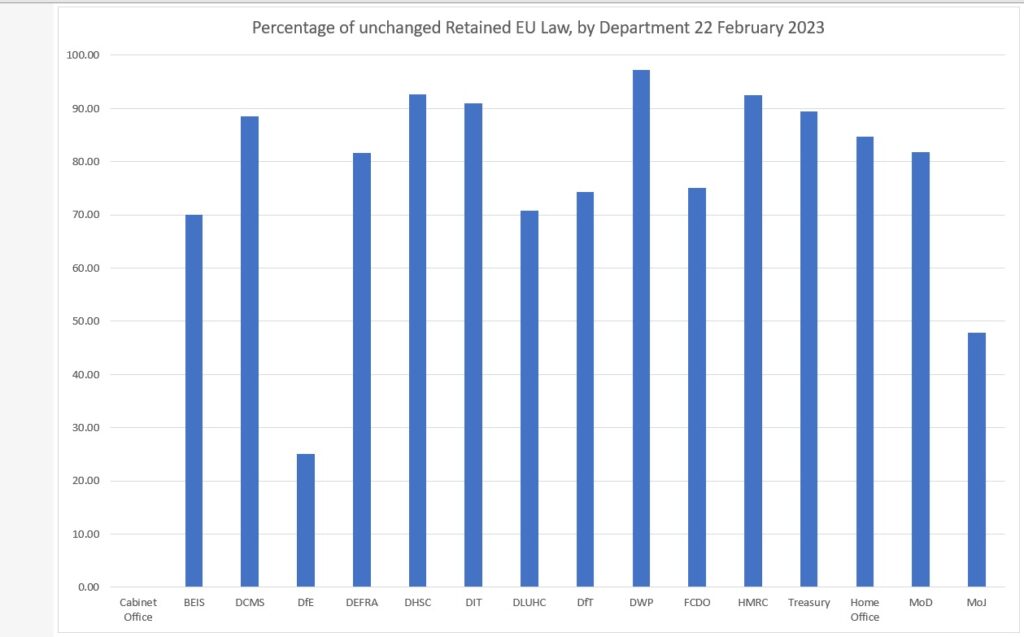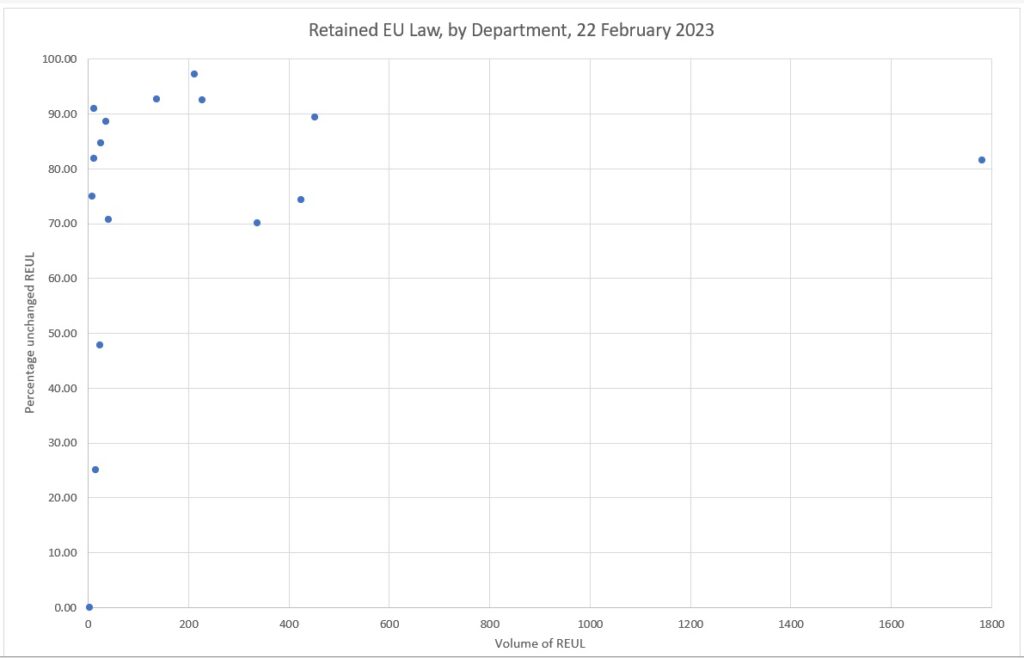 All of which is to say that as much as there is progress on REUL, it is not progress that looks compatible with the REUL Bill timetable. The new data simply highlights the need for a much more measured approach that is driven by operational requirements rather than things that sound good in a soundbite.
You can look at my full data file here, and naturally I'll keep you posted about further developments.