MyRecommendations
The key achievement for March has been that we now have our RISE MyRecommendations website up and running on the 'live' server.  It's a major step for the project as although there is stuff going on in the background it isn't until you get the search screen working and functioning that you get a real sense of the progress.
A screenshot of the front page is shown below.  This uses our standard corporate style (with appropriate links to the RISE project and JISC) and provides a search box for our Ebsco Discovery Solution.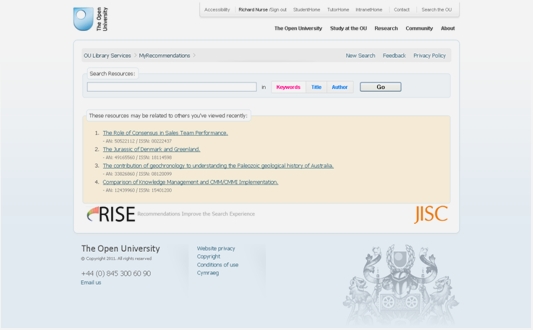 The search page has a  suggestions feature, so  as you start to type your search into the search box, it will offer you suggested search terms based on previous search terms seen by the system.
Once you have searched RISE you will start to get some recommendations being fed back to you.  Where articles that result from the same search that you entered have already been looked at they will appear immediately below the search results from EDS as 'People Searching for similar search terms often viewed'  If you are studying at the OU you should also see recommendations for articles that other people on your course have been looking at.
We've put together a quick screencast to give you an idea of how the system works in practice. MyRecommendations_prototype
Other activities
We've now met with the JISC-funded LUCERO and DOULS projects here at the Open University.  With LUCERO we've been talking about their experience of releasing data openly.  Although we are talking about different types of data in RISE it has provided us with some useful contacts within the institution.   The discussion with DOULS covered two areas: firstly, whether their work with Google Gadgets would help us with the challenge of tackling authentication through the OU's SAMS system; and secondly, whether our Google Gadget could be listed in the ones they will be recommending to users of the OU's Google Apps/iGoogle environment.  Unfortunately, DOULS authentication is linked in with the OU's Moodle Virtual Learning Environment so doesn't help RISE with authentication.  But yes we can promote our Gadget through their list.
Following up on Google Gadget authentication we've been talking to the corporate IT and SocialLearn teams at the OU.  So we've now worked out a method of handling the authentication and have documented what we want the Gadget to do.  We should be starting the build of the Gadget in the next week.
Our application for the evaluation work we plan to do with students has been submitted into the Student Research Project Panel.  This is a formal OU process that checks that the surveying and research is appropriate.  Once approved we will then be able to get details of students that we can contact to ask to test the system.
We've also had our first Project Board meeting which we will cover in another blog post.   It was good to get the chance to show a demonstration of MyRecommendations and agree some of the next steps. Over the next few weeks we will be letting people test MyRecommendations, organising our evaluation sessions, doing a few tweaks to the recommendations system and working on the Google Gadget.