The RISE prototype Google Gadget is now available for use.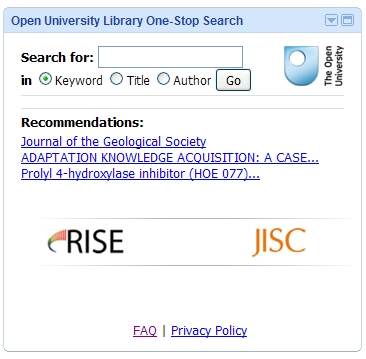 This is a Google Gadget version of the main RISE interface that allows you to search our One-Stop e-resources service and see recommendations provided by RISE.
It can be downloaded from the Google Gadgets directory here, or added by manually adding this link into the Add Stuff > Add feed or Gadget feature on your iGoogle desktop. 
The first time you use the Gadget it will ask you to sign in to the Open University using your computer login (external users can create a computer login and will be able to see search results and recommendations but won't be able to connect to licensed resources).
Further details of how to find and use the Gadget are included on our new Search Interfaces page.  This page provides details of both the main RISE search interface at http://library.open.ac.uk/rise and the Google Gadget.