Sarah Bakewell, associate lecturer for Creative writing (A215), was announced the winner of the 2011 Duff Cooper Prize on 22 February.  
Critically acclaimed, her biography of Montaigne, How to Live: A life of Montaigne, was previously one of only three shortlisted for the Costa Biography Book Award 2010.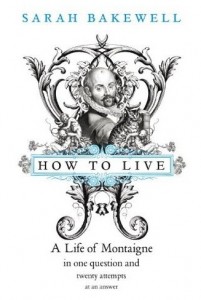 How To Live: A life of Montaigne is the first full life of Montaigne in English for nearly 50 years, and is not a straightforward biography in the traditional sense. 
Sarah relates the story of his life by way of the questions he posed and the answers he explored. It traces his bizarre upbringing (when he was made to speak only Latin), youthful career and sexual adventures, his travels, and his friendships with the scholar and poet Etienne de La Boetie and with his adopted 'daughter', Marie de Gournay.
The Duff Cooper Prize was named for Duff Cooper, First Lord of the Admiralty and wartime British Ambassador to France, made 1st Viscount Norwich shortly before his death in 1954. It celebrates the best in non-fiction writing, with the first annual prize being awarded in 1956. Previous winners include Robert Service, William Dalrymple, Peter Hennessy, Seamus Heaney and John Betjeman.
Sarah teaches for the Arts Faculty in London, where she also teaches for City University.  A podcast in which Sarah talks to OU philosophy lecturer Nigel Warburton about her book can be accessed here: http://philosophybites.com/2011/03/sarah-bakewell-on-michel-de-montaigne.html