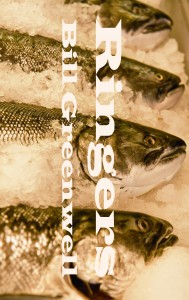 Bill Greenwell's new collection, Ringers, is published this month by Cinnamon Press, which also published Impossible Objects in 2006. It contains sixty poems which veer from the satirical to the serious, well quite serious, and from poems about childhood and death to love and depression. It also includes parodies which have appeared in The Spectator and The Independent – gently lampooning Blake, Auden, Herrick, Owen, Stevie Smith and Belloc. There is a mixture of rhymed and unrhymed poetry. 
Bill, who is the arts staff tutor in Gateshead, is on the module teams for A215 and A363 (the latter of which he helped to write), has also written creative writing chapters for A150. He's been with the OU for five years, and before that taught at Falmouth and Exeter Universities (and before that in FE). He is now back in the north-east, where he was born.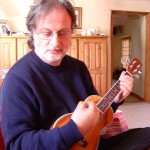 'Most of my poetry is at least slightly surreal,' says Bill. 'Or downright absurd. Even the more emotional poems are interested in the bizarre detail. The collection has a recurrent interest in similarities – between people, between events – and hence the title.' Some of the poems have won prizes or have been commended in competitions like the Wigtown (Scottish National) competition, and the Troubadour, Kent and Sussex, and Yeovil competitions. They've also been published in a variety of magazines, from Smiths Knoll to The Rialto. 
Penelope Shuttle describes him as having 'one of the sharpest tongues around, one of the sharpest pair of eyes, and the sharpest of hearts', and describes Ringers as 'a collection that sees him at the top of his game'. 
You can read more about, and buy Ringers at http://www.cinnamonpress.com/ringers/. 
Contrary to photographic evidence, Bill Greenwell cannot play the ukulele. But he does use it as a prop. 
Ringers, Cinnamon Press, ISBN 0781907090479