ROMY WOOD
Writer, lecturer, wife, mother & facilitator of diverse things, both tangible and spiritual.
launched at the Wales Millenium Centre on Friday 8th October 2010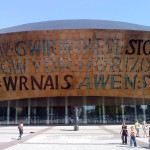 A black comedy of manic depression, sex  and altruism
published by Alcemi/yLolfa
 A pseudo-Buddhist monk, an illegal immigrant, a teenager with precarious mental health and a quixotic pair of young businessmen chancing their luck. All of them intricately, messily bound by the unique and rather dubious organization that is Eastern Vision. The empire has one foot in the seedier realms of metaphysical Surrey and the other amongst the slums and skyscrapers of Bangkok. From faux-Eastern objets to real estate, client-centred sperm-donation to gypsy magic, the tangled fortunes of Eastern Vision go from strength to strength and back again.
Yingyang, first child of the dysfunctional troupe, tells us the story; from the day her mother Jessica tripped on a paving slab and never looked back, to her own quirky upbringing and island exile. In Bangkok, enigmatic entrepreneur Bristol takes the helm and in London, Romanian refugee Pippa claws her way daintily up the ladder to exploit the company's potential for her own ends. Moses, who prefers not to mention that he was born in Surrey, surrounds himself in mystic exoticism, building his own outrageous business-within-a-business. As they battle for control – of the company, of each other and of themselves – they hurtle towards an end none of them could have predicted.
Romy gained a BEd from Homerton College Cambridge in 1995, and spent ten years teaching in secondary schools, where as Head of Drama she staged productions from "Macbeth" to "Les Mis." In 2006, she gained a distinction in the MA at Cardiff University in 'The Teaching & Practice of Creative Writing' and continued to write under a bursary from Academi. She was a lecturer in Life Writing at UWIC and now teaches Creative Writing for the Open University and facilitates therapeutic writing groups. Her first novel, Bamboo Grove was published by Alcemi in October 2010.  Romy lives in Cardiff with her husband and three children.
Read some reviews of Bamboo Grove …
 Reviews of BAMBOO GROVE:
"…Romy Wood has assembled a cast of vivid and uninhibited characters, and constructed around them a story that buzzes with insight and imagination. The narrative snakes between its main characters and the locations of London and Bangkok before its impressive and unexpected denouement. There are moments of great beauty in Bamboo Grove – and intimations of a deep affinity with the big themes that are tackled here; environmental responsibility and escape, mental illness and the policing of joy. A very fine debut…" Richard Gwyn
"…An unusual and engaging novel packed with a cosmopolitan cast of colourful characters involved in dubious schemes across two sides of the world, Bamboo Grove is as unpredictable as the tremendous event that forms its climax…"  Lindsay Clarke 
It's an odd sensation, having the characters I invented in my head and lived with for two years, out there for everyone to meet. Moses and his six-toed feet, Yingyang and her silence, and Jessica and her mood swings, going public… My daughter was one of the first readers to finish, and she said her favourite character is Noah. That's great; he gets a kind of supporting actor nomination. I hadn't expected a minor character to stand out like that. It will be interesting to see which characters stand out for other readers.
          Now I'm supposed to be in marketing and publicising mode, but all I want to do is work on the next novel, "Word on the Street."  In fact I spend most of my time doing the washing, and in between I teach and write. If clothes washed themselves, and all those hours were put into writing and publicising, I'd be up there with Hilary Mantel…
I was thinking about how the characters are born in my writing. It can be hard to remember when I first imagined a character, or how the idea came to me, because I very quickly know them so well they feel real.
          Moses' name came from a man who was selling beauty products at a stall in a shopping arcade – going up to every passing lady, most of whom ignored him, and saying how beautiful they were and asking if they'd like to test the products. I got trapped one day – I'm usually pretty good at the dodge – and this young man started buffing my nails and reciting sales patter at me. He told me his name was Moses. After he'd shown me my shiny nails, I politely asked how much the products were, and he said "You're not really interested, have a nice day." He was a bit pretentious, a bit over styled, but had a streak of cynicism and ability to tell what people were thinking.
          These attributes began to form Moses' character, but the Moses who found his way onto the page is not a portrait of the salesman. My Moses shaved his head and donned orange robes – I didn't at any point make a conscious decision that this is what he would do, he just did it. My subconscious feeds ideas into my conscious as I write. And, like many writers, I learn a lot about characters by the way they speak. I listen to the voice my subconscious is forming for the character and it crystallises the creation. The characters show me how they look, too, and what their names are. Oddly, I have yet to find a surname this way. Forenames come to me, but surnames are chosen and can feel arbitrary.
          Jessica's name was Sarah, to begin with, and it wasn't until she told me that her name was actually Jessica that she became real to me. Yingyang was always Yingyang.