For the first seventeen years of my life I spent four weeks a year at my gran's farm in Northern Ireland. I loved it, the dog and the rain and the wellies, and felt it was very much my other home, while also being very aware that I didn't belong in lots of ways. Having returned twice as an adult, for a holiday and my gran's funeral, I saw the many ways the farm had changed. Walls had been knocked through and extensions built. It was still a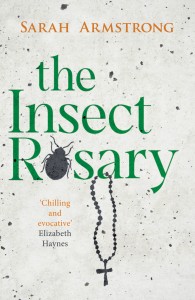 happy, family home, but it wasn't my farm any more. I became determined to freeze the place as I remembered it and began writing my novel by accessing all the memories I could. In forming these memories into a novel I had to give it a fictional structure to contain everything that was true (true to me, at least). Bluntly, I turned my mother's family home into a dark and disturbing place. She took the news quite well.
'All families have secrets, but Bernadette's are more dangerous than most. On holiday in Northern Ireland in 1982, she and her older sister discover their family is involved with disappearances and murder. Thirty years later Nancy makes a disastrous return to the farm with her own family. The events of the past gradually and menacingly reveal why those sisters have not spoken to each other since that last disturbing summer together.'
My novel uses two viewpoint characters, sisters, and their stories are separated by thirty years. It is about dangerous silences and dangerous words. It was important for me to have this sense of doubling (in events, characters and time) and place has always been an important aspect of my work. Through writing about such an important part of my childhood I have remembered more about it than I thought possible. In getting it published I have realised how important it is to combine truth with fiction, but not to be tied to the truth, and the importance of being nice to your mum.
'An atmospheric, cleverly written exploration of the intensity of sibling relationships, The Insect Rosary is chilling and evocative: a story full of dark humour, unexpected tensions and unanswered questions, leading to an unbearably tense conclusion.' Elizabeth Haynes
Sarah Armstrong teaches on A215 Creative Writing. The Insect Rosary is published by Sandstone Press: http://sandstonepress.com/books/the-insect-rosary