Associate Lecturer Anne Caldwell's latest poetry collection, 'Painting the Spiral Staircase', (Cinnamon Press, 2016) will be reviewed in the next edition of Stand Magazine (Vol.16.1) by Dr Stella Pye, who writes:
I have combined the review with some previously unpublished poems from Muriel Spark, and with Michael Sweeney's 'Inquisition Lane'. I've taken part of Michael Schmidt's 'Afterward' to the Spark as a denominator common to all three collections, in which he says:
'Even the most rigidly shaped are voiced, and even the most casual
are meticulously wrought, the diction, tempo and phrasing revealing
at once the drama of the narrative and the character of the narrator.'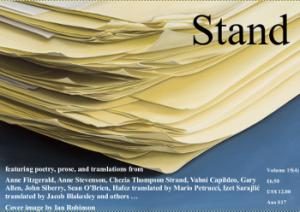 Stand has been a fixture on the British and world literary scene since 1952, when the first issue appeared in London. It moved to Leeds in 1960, then to Newcastle, and it is now edited from the School of English at the University of Leeds in collaboration with Virginia Commonwealth University in the USA.

For a copy of the magazine, or subscription, visit http://www.standmagazine.org/welcome