This Monday saw the festive gathering of UK and international colleagues at the Victoria Gallery & Museum, University of Liverpool. This event heralded the publication of a book I recently co-edited with Dr. Zosia Archibald in honour of the Ancient Historian John K. Davies (Emeritus Rathbone Professor of Ancient History and Classical Archaeology at the University of Liverpool), The Power of Individual and Community in Ancient Athens and Beyond.
The event was officially launched by the current Rathbone chair, Professor Lin Foxhall, who reflected on the major influence that John had made at the beginning of her own career. Following this, Dame Janet Beer, the Vice-Chancellor of the University of Liverpool, addressed all those present, congratulating John on his significant achievements in the field, and thanking him for the important contributions that he made to the institutional environment at the University of Liverpool.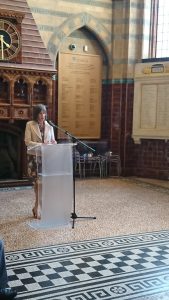 Dame Janet Beer addresses John and all those gathered
Following this, John spoke for some twenty minutes on growing up in Cardiff, his early encounters with the ancient world (for example, at the old Corbridge museum at Hadrian's Wall when he was 15 years old), and his various undertakings since his retirement in 2003. Indeed, John has remained an active member of the scholarly community, delivering the opening or closing address at a number of major conferences, as well as taking up myriad fellowships and residencies in various European institutions. John ended his reflections by issuing a warm encouragement to all those in the field that have 'so stimulating a challenge' in front of them.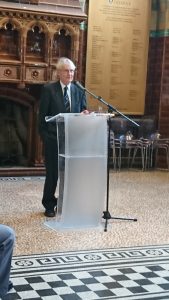 John K. Davies delivering his speech of thanks
Following lengthy applause for John, all involved proceeded to the Leggate Lecture Theatre, where we were treated to a very special guest lecture by the Wykeham Professor of Ancient History at Oxford University, Nino Luraghi, who spoke on 'The Peloponnesian Peace: Thucydides and the Ideology of the Peace of Nikias'. Professor Luraghi delivered a highly engaging paper that took in many passages from Thucydides' History, several of the comic playwright Aristophanes' plays, as well as certain edifying passages from the Life of Aristeides, written by the first-second century CE biographer Plutarch. The evening closed with a series of more informal celebrations, including a drinks reception.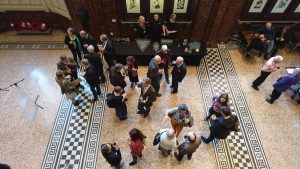 Guests gather to celebrate John's career at the Victoria Gallery & Museum, University of Liverpool
But things did not end there, however; on the following day, John, Zosia and I reconvened to discuss in more depth John's intellectual approach as an historian of the ancient world, Zosia and John's shared research interests in Hellenistic economies, and our thoughts on the future direction of the discipline. A special video recording of our discussion will soon be made available on the website Classics Confidential.
In sum, this event was a marvellous celebration of a scholar who has inspired countless students, and who as a researcher has continued to play a leading role in the field for more than four decades.