This post by Dr Paula James is the fourth in a series celebrating the Open University's 50th birthday. To access the previous posts, click on 'History of the OU' in the 'Categories'  menu, or follow the links in the first paragraph below. 
Dr Janet Huskinson has followed Professors Lorna Hardwick and Chris Emlyn Jones, the dynamic duo who put our subject on the map in Distance Learning, with her eloquent and generous reminiscences about writing and teaching Classical Studies modules.  It was an honour and an education for me to work so closely with Janet on The Roman Family and Culture, Identity and Power, both groundbreaking modules.
There are other colleagues who were a joy to write and teach with but special mention must be made of another dear friend, Dr Anastasia Bakogianni, who chaired the Classical Studies MA and with whom I produced the 'Reception of Greek and Roman Tragedies' option at the end of my OU career.  Like any course and module team process this could be a roller coaster of redrafts and frayed tempers but thank heavens for brilliant course managers and media experts who kept us on track!
Being an OU Lecturer and in my case Staff Tutor based in the South East I would say that the learning curve in earlier and later years was just amazing. I became a creature of interdisciplinary studies partly because I was managing and supporting tutors (local Associate Lecturers) across the Arts Faculty departments and of course Janet and I were asked almost immediately in 1993 to take on the Colosseum unit for the new Humanities course A103, An Introduction to the Humanities, a study section which proved really popular with students and rewarding and challenging for me and Janet.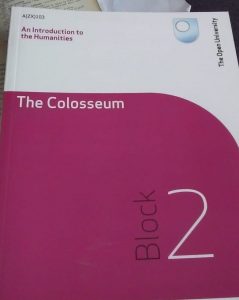 Gladiators took me well out of my comfort zone (although Ridley Scott's epic movie of 1999 yet again proved that Classicists in the OU have an eye on the cultural future as well as the ancient past!) but then I was already reeling from my first residential school in Manchester (summer 1994) when I was teaching face to face on A102 (An arts foundation course) about mid-Victorian Britain. The weeks when students and tutors could experience the camaraderie and stimulation of campus life and learning were so important for retention and progress; their demise is still to be mourned even in a high tech age.
I became quite skilled at intermeshing all the new subject areas with my research activity so that I produced articles and chapters on the Roman arena, a monograph on the myth of Pygmalion on screen (Burne Jones and Ovid's mythology was part of my A102 pre Raphaelite fun lecture at Manchester, while Shaw's play featured in A103) and even a book on Trade Union emblem imagery 1850-1925, courtesy of the Culture Block in A102 (this book was produced together with Dr Annie Ravenhill-Johnson; I edited her essays on the art and ideology of the Trade Union emblem). A book on literary parrots also came to fruition during seminars on Wide Sargasso Sea for A103 and I had the pleasure of writing alongside polymath Associate Lecturer Dr Julia Courtney who ended up as an honorary member of the Classical Studies Department.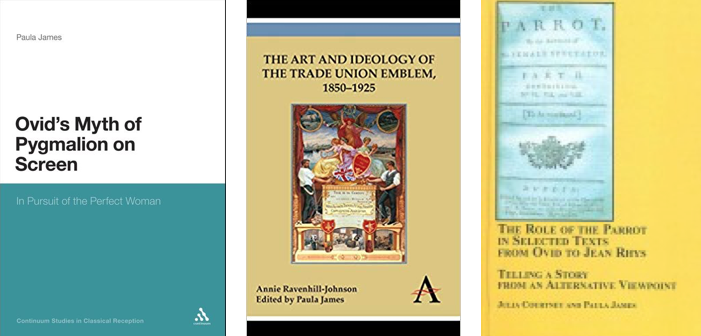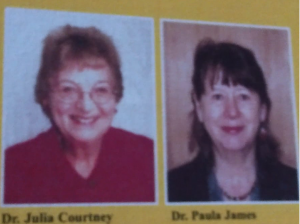 None of this would have been possible without the expectations of the Arts Faculty and my more experienced colleagues that you knuckled down and got on with what our degree programmes needed and our students wanted. To me this should continue to be the driver that ensures many more years of the Open University as the benchmark of lifelong learning. The now joined up Faculty of Arts and Social Sciences should be widening our perceptions of society in all its rich diversity and keeping us critical and reflective, and that applies to all of us at every level of the teaching and learning journey.
I want to end with something I tend to do on personal birthdays (and 69 approaches in September of this year) which is assess what I have achieved and what is to be done. My blog post here is full of praise for what the OU means to me and why I am a better scholar after my 28 years (I started as an OU tutor in 1991 and am still at the margins of academic life as a research associate) but my last days were marred by the closure of my regional office (R13) during 2014 and the loss of many (mostly female) staff who ran our wonderful tutor and student support teams.
This was followed by the shutting down of most other offices and the further centralisation and digitalization of processes that need the personal, holistic and local touch.  I am shamelessly going to ask that the OU leadership and senior management take stock of past decisions in this our 50th year so that we can, hand on heart, say our vision for more socially and aesthetically aware citizens is what we are giving to the UK in the 21st century.  I used to swell with pride at seeing so many students receiving their degrees at our ceremonies in Brighton.  Those days of celebration are an abiding image of what the human spirit can achieve with personal dedication, collegiate learning and critical reflection. Happy Birthday Open University!
Listen to Paula James talk about her research on Ovid, Pygmalion, Salmacis and Hermaphroditus (audio recorded at the 2017 Classical Association conference in Kent).