In December 2021, our own Professor Karl Hack published a major monograph, The Malayan Emergency: Revolution and Counterinsurgency at the End of Empire with Cambridge University Press.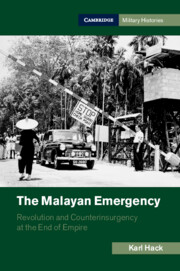 The Malayan Emergency of 1948–1960 has been scrutinised for 'lessons' about how to win counterinsurgencies from the Vietnam War to twenty-first century Afghanistan. This book brings our understanding of the conflict up to date by interweaving government and insurgent accounts and looking at how they played out at local level. Drawing on oral history, recent memoirs and declassified archival material from the UK and Asia, Karl Hack offers a comprehensive, multi-perspective account of the Malayan Emergency and its impact on Malaysia. He sheds new light on questions about terror and violence against civilians, how insurgency and decolonisation interacted and how revolution was defeated. He considers how government policies such as pressurising villagers, resettlement and winning 'hearts and minds' can be judged from the perspective of insurgents and civilians. This timely book is the first truly multi-perspective and in-depth study of anti-colonial resistance and counterinsurgency in the Malayan Emergency.
'Karl Hack has provided a timely, nuanced and balanced re-assessment of the evolving British counterinsurgency campaign in Malaya and its 'lessons' for current counter-insurgency practitioners and academic historians alike. Highly recommended.'
Kumar Ramakrishna – Nanyang Technological University
'This is a book we have long needed. The half of the Malayan population of the 1940s that was more-or-less anti-imperialist, anti-sultan, and sympathetic to communism and its Chinese variant was not only defeated militarily in the 1950s, but demonised and exoticised by the governments that followed. By suppressing its voices and developing alternative anti-imperial stories with little historical basis, Malaysian history has been seriously distorted. Karl Hack has seized this moment to tell for the first time a balanced history of the struggle of the 1950s. It deserves a wide readership, particularly among young Malaysians eager to reclaim a multi-vocal and inclusive past.'
Anthony Reid – Australian National University
'The Malayan Emergency remains central to the study of counterinsurgency. Karl Hack has produced an authoritative and thoroughly researched account of the conflict, introducing fresh perspectives on the basis of new primary evidence. As such, this book is both a uniquely valuable historical examination and a necessary resource in our efforts to learn from the past.'
David Ucko – National Defense University
'Karl Hack has written the definitive history of the Malayan Emergency. He examines the event from the multiple perspectives of the government, the insurgents and the local people. This is outstanding scholarship dealing with one of the defining moments in Malaysian history and the Cold War in Southeast Asia.'
Danny Wong – University of Malaya
Professor Hack was also an interviewee on Tony Robinson's 'Rumble in the Jungle: The Malayan Emergency' on Channel 4, first shown 16 October 2021.