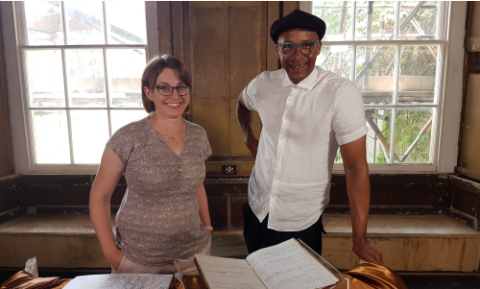 Two Historians from The Open University consulted on a new three-part series exploring the history of Hackney, broadcast on Channel 5 from 3 May.
Jay Blades: No Place Like Home sees Jay Blades (of BBC's Repair Shop fame) return to his home community of Hackney, interviewing experts, local Black musicians and artists, as well as old friends, in a blend of personal stories, culture and history as he explores the place he thought he knew so well, discovering there is often much more than meets the eye.
Dr Katie Donington, Senior Lecturer in Black, African and Caribbean History, was approached by the production company Hungry Jay Media to advise on content for the programme. "They were looking to include a segment on Hackney's history of slavery and abolition. The documentary is a chance to make those links for a wider audience using personal and local history to connect to Britain's history and legacies of slavery.
"I'd spent two years working on an Arts Council England funded public engagement project 'Local roots / Global routes: Legacies of slavery Hackney'. This was a partnership with Hackney Museum and Archives. We produced research which demonstrated how the local area had been shaped by transatlantic slavery including stories of local slave owners and slave traders, abolitionists and those that had been enslaved."
Katie explains that, following the Black Lives Matter protests in 2020, Hackney Council commissioned a review into its sites associated with slavery. "Hackney is home to many diverse communities including people of African and Caribbean heritage like Jay, so this history is significant to residents in the present.
"The producers invited me to be interviewed about these histories at Newington Green Church in Hackney. This is an important site for Hackney's history abolition – supporters of the campaign Mary Wollstonecraft and Anna Laetitia Barbauld were members of the congregation, but it was also a place which some slave-owning families were connected to."
Appearing in the first episode, Katie and Jay "discussed the links between the history of slavery and racism today. Growing up in Hackney he had painful memories of the discrimination he faced including within the school system. As a historian of slavery, I believe it's important that people know about this history not just so that they can understand how it has shaped the built environment – statues, country houses and street names – but so they can unpick the racial thinking that was used to justify systematic inequality and oppression."
Head of History and Senior Lecturer Dr Rosalind Crone is an expert on the society and culture of nineteenth-century Britain, and particularly criminal justice, popular culture, education and reading practices, creating the first map of the penal landscape of nineteenth century England as part of her Prison History project. For several years, she has been working on the general theme of educating criminals, with her Illiterate Inmates: Educating Criminals in Nineteenth-Century England published in May 2022.  In the third episode, Rosalind and Jay explore the former Elizabeth Fry Refuge Hostel for discharged female prisoners at 195 Mare Street in Hackney.
Elizabeth Fry was a leading figure in the early 19th century penal reform movement, campaigning for the separation of male and female prisoners, and for the superintendence of female prisoners by female officers. She understood that female prisoners were in need of protection from abuse, being among the most vulnerable in society. Fry also worked hard to transform the regime inside prisons, arguing that the women should be given employment, basic education, and religious instruction in order to ensure their lives were more meaningful and less criminal on release.
After her death in 1845, friends and admirers of Fry, with donations (including from Queen Victoria), established a refuge for released female prisoners in her name, on Mare Street, Hackney. Until 1913, the Refuge provided a home for women released from prisons in London who had nowhere to go while they rebuilt their lives, under a strict regime with hard work. Rosalind and Jay reconstructed some of the poignant stories of women who were sent to the Refuge using a surviving case book from Hackney Archives and census records.
Broadcast from Tuesday, 3 May at 9pm on Channel 5, the three-part series is also available via My5. It is a Hungry Jay Media production for Channel 5.