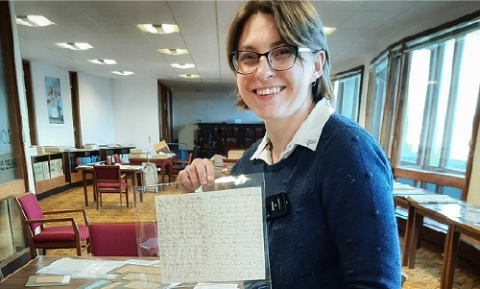 Dr Rosalind Crone, Head of History and Senior Lecturer, is Historical Consultant for new BBC production Lady Killers with Lucy Worsley, and appears throughout the series, which broadcasts from 27 April on BBC Radio Four and is available on BBC Sounds from 25 April.
Ros explained that the series is "a curated collection of 19th century murderesses from Britain and North America who together provide a representative portrayal of female living and killing in the Victorian age. The murderesses featured in this series include those who continue to be household names today, and those long since forgotten."
Taking a contemporary, feminist perspective throughout, "this is a series about women – their lives and problems – and we wanted to hear what they had to say about the circumstances they found themselves in. Each episode includes their words, extracted from the surviving historical evidence, and voiced by actors."
"Through extraordinary circumstances – murder – which create rich historical evidence, the ordinary lives and problems of women in 19th century Britain and North America come to light. The historical evidence produced by these extraordinary cases provides a window into the lives, ambitions and predicaments of 19th century women from across the social spectrum."
The unique feminist perspective was an important element in the research and production of the series. Ros noted that "this series would have been impossible without the tremendous work of historians of women, gender and criminal justice which has accumulated and deepened in extraordinary and imaginative ways over the past fifty years.
"Throughout the series, we worked hard to try to expose the craft of the historian to listeners, especially the discovery and use of historical evidence to shed new light on the lives of women in history."
In the first episode, Ros and Lucy Worsley explore the Balham Mystery and the story of Florence Bravo in one of the most sensational unsolved murder cases of the Victorian era.  They visit the pub where the inquest into Charles Bravo's death was held, near The Priory, the grand house in Balham where, on 21st April 1876, after three days of agony, Florence's young husband Charles died of poisoning. The death was a Victorian media sensation. Was Florence a ruthless poisoner or an abused wife?
Ros noted that "one of the highlights of working on this series was getting out and about, visiting the locations where key events in these stories took place. What was it like to be at a murder inquest in a room above a public bar? Given the physical structure of the house, could this murder really have happened in the way that prosecutors described it?"
Each episode focuses on a different woman's story, taking an in-depth look at the crime with an all-female detective team of historians, lawyers, journalists and psychologists, exploring how the crime was received at the time, and how it would compare to today's reception.
Further details of the series can be found at the BBC website.