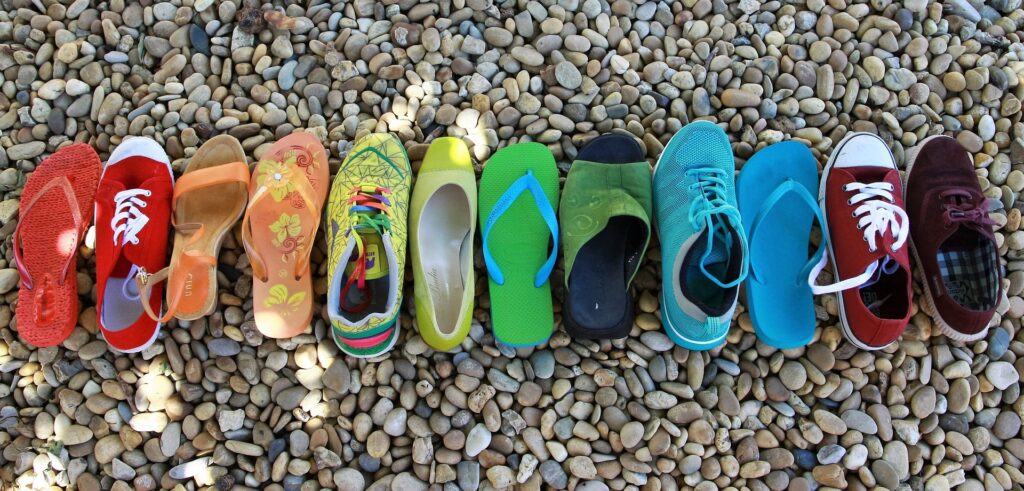 By Katharine Reedy and Mark Williams
What is the most important feature of assessment for you and your students? This is a question we put to those present at the Assessment Design workshop our team led for the OU staff community in May 2021. The word cloud below shows that people thought that assessment should first and foremost be fair. They also believed it should be innovative, useful, interesting, challenging and enjoyable.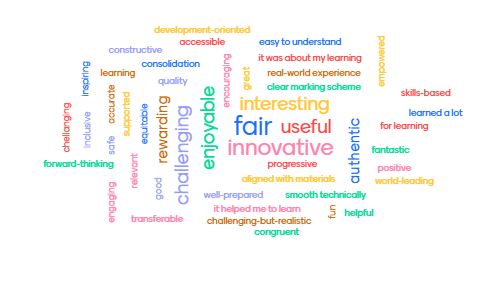 According to The Open University's assessment principles (agreed in 2013), "the primary purpose of module assessment should be […] the development of self-regulated, reflexive, independent learners." In this blog post we look at some of the ways that Learning Design approaches can help to create the conditions for fair and empowering assessment to happen.
Helping students to engage with feedback
The role of feedback – and feedforwards – is highly important, to support students in progressing to their next assessment or module. Enabling students to engage successfully with feedback is therefore an essential part of design. Tutors are key people in this process.
David Nicol (2020) also suggests that students can be encouraged to regulate their own performance without teacher comments. For example, this can be done through providing suitable reference information on the module website for comparison, and structuring learning experiences so that students engage purposefully in the comparison process and make the results explicit, through writing, discussion, and action. For this to work well, the assessment strategy at qualification level needs to be clear, transparent and aligned with the tuition strategy.
How Learning Designers support assessment
The student-active learning described by Nicol fits well with OU Learning Design approaches. These put the focus on who the students are and what they will do to learn. During the design process we share and visualise designs, and use evidence to evaluate their effectiveness. The OU Activity Types Category framework is a tool that can be used to keep the focus on student experience and workload, and prompt educators to come up with a wider variety of ways for students to engage with the material. Other learning design approaches include the use of student profiles or personas, and of online tools to map out the student learning journey. Involving students in design and co-creation of curriculum is another great way to ensure the student voice is heard. Use of data and analytics enables teams to monitor student engagement and assessment outcomes.
Jisc assessment principles, outlined in the report on The future of assessment, reinforce the importance of creating assessment that is authentic, accessible, automated, continuous, and secure. Alternatives to essay-based assessment are part of this, also offering students choice and flexibility.
Inclusive assessment
At the OU we want to bring students into the experience of learning. Creating a sense of belonging is important and acknowledges the learner as having prior knowledge and experience, preferences in communication, ambitions and particular reasons for studying. But we must ask questions of assessment and whether it creates a context that treats all learners fairly and considers their experience and values. Inclusive assessment practice has challenged traditional assessment as setting up judgement systems that can value some forms of communication and devalue others. As Pauline Hanesworth makes clear:
Assessment in Higher Education is neither value-neutral nor culture free: within its procedures, structures and systems it codifies cultural, disciplinary and individual norms, values and knowledge hierarchies (Hanesworth, 2019).
Therefore, it is important to question whether student success relies on a value system that has constructed a preferred way to measure attainment. Students may not see themselves reflected in these assessment practices and may feel unable to demonstrate their skills and abilities.
At the assessment workshop we raised these key questions and considered whether our practice could enable fairer forms of assessment that start to see learners as co-authors. Our work with Pauline Hanesworth has led us to start considering an assessment strategy to improve the way learners experience assessment. For example, a wider range of assessment practice could incorporate students' skills and preferences and provide an element of choice. This would enable learners to select an assessment to benefit their skills, ambitions and preferred ways to communicate. It is vital that we continue to build diversity and equality into our assessment to promote inclusivity. Valuing students' experience and supporting them to use feedback is part of that, so that they can learn effectively through assessment.
What next?
We are now working with modules that have optionality strands to enable learners to choose pathways through the material as well as assessment. And students are already able to choose from assessment options in some live presentations. Any discussions around optionality and students as co-authors must consider tutor workload as well as the systems that will best support a wider range of assessment tasks.
At the assessment workshop what also became clear is the importance of using transparent language and criteria linked to assessment tasks and guidance. Without this, students are likely to feel shut out of the process of assessment and not able to actively engage. If HE institutions provide this clarity and transparency of assessment language, then students can be better placed to self-review, provide feedback to peers, use feedback to develop learning strategies, and consider how they might best respond to assessment tasks. In future, students could be involved as co-creators in designing their own assessment tasks, moving towards more equitable assessment and feedback practices.
References
Hanesworth, Pauline (2019) Inclusive assessment: where next? https://www.advance-he.ac.uk/news-and-views/inclusive-assessment-where-next (accessed 21 December 2021)
Jisc (2020) The future of assessment, https://www.jisc.ac.uk/reports/the-future-of-assessment (accessed 21 December 2021)
David Nicol (2021) The power of internal feedback: exploiting natural comparison processes, Assessment & Evaluation in Higher Education, 46:5, 756-778, DOI: 10.1080/02602938.2020.1823314 (accessed 21 December 2021)