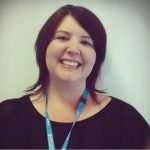 Jay Rixon is a Senior Manager in Access, Open and Cross-curricular Innovation and responsible for the MA or MSc Open qualification. She is a self-confessed food lover, who rather enjoys spending time in the kitchen cooking and baking. In this post, Jay reflects on a student/staff online drop-in session held on Tuesday 28th April 2020. 
In this season of lockdown many people have turned to areas of comfort: music, books, movies/TV have all been much shared and discussed, but the flour, sugar and egg shortages demonstrate that the nation has been cooking and baking again!
In this session we discussed comfort food, what people have been cooking, food no-go's and how our relationship with food may have changed through this season of lockdown. As a result of this session a collaborative cookbook has been produced, imaginatively titled 'The Open Programme Cookbook'. (To view or download the cookbook, right click on the link and open in a new tab) 
We kicked-off our virtual discussion by exploring people's go-to comfort food, which was a mixture of sweet and savoury. In the savoury camp we have soup, crumpets, cheese and crackers, dip and breadsticks and crisps (basically anything potato). In the sweet camp we have chocolate (of course), followed by ice cream, rice pudding, hot cross buns, scones, pancakes, cinnamon rolls and clearly cake! These items might not be things that we make from scratch but enjoy on the sofa, standing up in the kitchen or even, eating in bed!
Comfort eating apart, many people have been using this time during lockdown to cook more, perhaps being a little more aware of eating fresh food or having more time to experiment in the kitchen. Dishes that were being cooked and prepared by the students or staff were varied but all sounded extremely tasty (is your mouth watering yet?)
A few pictures of these tasty dishes have been shared with us for your visual delight!
Greek inspired lamb chops with potatoes and cheese
Slow cooked Veggie Chilli
Vietnamese inspired soup
Beef stew with dumplings and vegetable mash
Homemade pasta with spinach pesto
Sweet potato, chorizo and sweetcorn quesadillas, with fresh salsa
Patatas Bravas
A dinner bowl with dip along with tomato salsa & halloumi
Carrot bhajis (served with Bombay mix)
We talked about the need to be creative with cooking due to ingredients not being available or not present as part of a weekly shop, e.g. using lemon juice instead of baking powder, peanut butter for tahini and the best yet when making bread, use beer to provide the yeast!
When talking about comfort food or food heaven, the conversation often strays to food hells, and here were some of the food-no-go's discussed:
Tuna
Goat's cheese
Celery
Kidneys
Seafood
Liver
Avocado
Coriander
Sprouts
Peanut butter
Beetroot
Coconut
Inspiration for cooking new recipes has been provided by many a YouTube tutorial, such as Jamie Oliver's FoodTube, or Wagamama demonstrating how to cook their recipes at home with their 'Wok from home' tutorials, well worth a watch.  Or restaurants like Pizza Express sharing downloadable recipes to make at home. Have a look in the 'The Open Programme Cookbook' for some recent favourites people have been cooking such as Bang Bang cauliflower or homemade humous.
We also spoke about the more mindful approach of not wasting anything and using food up. Perhaps this time has helped us be more aware and not take for granted our groceries. For example did you know that "64% of brits have some element of weekly food waste, costing around £7.54 each time."  or that "the average family with children throws away seven meals a week, or £70 worth of edible food per month"
A few of us shared how during this time we have discovered new ways to purchase food and support innovative business models like local fruit and veg market stalls moving their business online and delivering fresh food straight to doorsteps. Or local butchers doing the same, or street food vendors cooking on demand takeaways, booked and paid for mid-week and then collected ready for the weekend.
We ended our time together by talking about our food 'misses', the dishes we miss (a good curry or Italian) the opportunity to watch the world go by or spend time with a friend and have a coffee, be it a latte, flat white or skimmed, de-caff vanilla latte (the author's coffee of choice).  Perhaps these foods and drinks that are missed  will help us reconsider our relationship with food, the things that bring us comfort and pleasure, how to ensure we waste less food, and the new food adventures we can go on, so grab a cuppa and dive into the output of this session the 'The Open Programme Cookbook' and 'Get cooking!'.