This blog post was written by Staff Tutor and Senior mathematics lecturer Katie Chicot.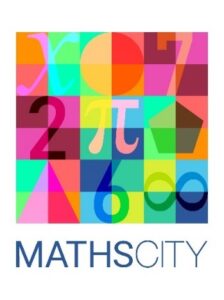 MathsCity marks a first, major step towards creating a first National Mathematics Discovery Centre for the UK. MathsCity opened to the public on 4th October. For more details visit https://mathscity.co.uk/
MathsWorld UK:
MathsWorldUK is an educational charity working to advance the public understanding of mathematics so that everyone, regardless of age and background, can access and delight in the fun and power of maths. The mission, ultimately, is to create in Leeds, by 2028, the UK's first Mathematics Discovery Centre, a world-class visitor attraction celebrating the maths at the heart of the patterns and structures of our world. MathsWorldUK is led by Open University staff tutor Dr Katie Chicot
A cultural intervention
We know that a person's culture is having the strongest impact on their study choices. A cultural intervention is needed to address the UK's lack of relationship with or culture of maths.
MathsCity will act as a hub for a wider programme including maths activity clubs, evening talks and holiday activities. It will provide a valuable space for ongoing dialogue with young people and communities across the region, as we engage them in developing ideas and content for a major new discovery centre celebrating every aspect of mathematics.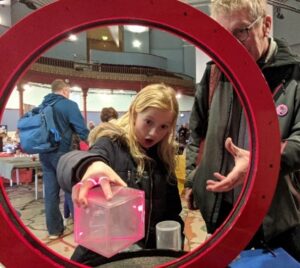 MathsCity
This October we launched MathsCity (http://mathscity.co.uk/) a dynamic, interactive maths experience for children and families in a large unit in Trinity Leeds shopping centre.
MathsCity offers exciting maths experiences and challenges, designed as an immersive, exploratory 'journey' for a family audience and supported by skilled facilitators.
The aims of MathsCity are:
Over our first year of operation (October 2021 – September 2022), to reach 17,000+ people of all ages, backgrounds and cultures with inspiring activities, where they experience maths as playful, exciting and accessible
To build young people's skills, confidence and interest in mathematics, particularly targeting those who are disadvantaged or excluded from such informal learning opportunities
Between 5th October and 20th December, we had 2381 general public visits and 464 school pupils visit MathsCity. The MathsCity feedback below has been posted on social media, either in tagged posts, comments, or reviews:
"We decided on the spur of the moment to book one last thing during the October half-term and we are so pleased we did. The staff were helpful, friendly and really kind. They took notice of the interests of them both. The children found it easy to talk to any of them and ask any questions they had. We spent over an hour and twenty minutes there and it was talked about all day. Would recommend it to anyone who wants to try something different. Hopefully this can become a bigger space one day!"
"Would highly recommend MathsCity – in particular, it is a great place to visit with people of all different ages. We loved it as adults, but we could see everyone from teenagers to toddlers having a brilliant time. A perfect choice if you have lots of different age groups in your party. We will definitely be returning soon!"
"Absolutely amazing place, would highly recommend to all ages."
"Amazing few hours out, suitable for all. Great learning experience."
"Wow!! What a place MathsCity is, in Trinity Leeds. We went today and spent 90 minutes doing all sorts of puzzles and learning through play. Our children were in their element and found it mentally stimulating, and whilst some bits were too hard, there was plenty to keep them entertained. There are around 30 puzzles and experiments for big and old to play on and the best thing is that if you don't have a child and/or you don't want to bring them, it is suitable for grownups too!!"
"What an amazing place and such a brilliant idea. We spent ages here, the perfect example of how learning can be fun."
MathsCity was on all the regional news channels in a maths piece which is posted on the MathsCity Facebook page: https://fb.watch/95hPu1DM-G/
You can also get a feel for the centre via a great video made by a visitor:
https://twitter.com/LeedsPlusSocial/status/1451269462787829760