Some of the thinking behind SocialLearn is set out in a chapter in the new book edited by a team at the Open University's Knowledge Media Institute, with contributions from some of the thought leaders on the future of education: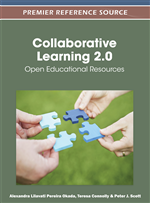 Collaborative Learning 2.0: Open Educational Resources
Current advances and convergence trends in Web 2.0 have changed the way we communicate and collaborate, and as a result, user-controlled communities and user-generated content through Web 2.0 are expected to play an important role for collaborative learning.

Collaborative Learning 2.0: Open Educational Resources offers a collection of the latest research, trends, future development, and case studies within the field. Without solid theoretical foundation and precise guidelines on how to use OER and Web 2.0 for collaborative learning, it would certainly be very difficult to obtain all the benefits that these "user-generated content, resources and tools" promise. The purpose of this handbook is to understand how OERs and Web 2.0 can be deployed successfully to enrich the collaborative learning experience and ensure a positive outcome in terms of user generated knowledge and development of skills.
In Chapter 17, we set out the rationale that motivates the creation of a platform like SocialLearn…
This chapter examines the meaning of "open" in terms of tools, resources, and education, and goes on to explore the association between open approaches to education and the development of online social learning. It considers why this form of learning is emerging so strongly at this point, what its underlying principles are, and how it can be defined. Openness is identified as one of the motivating rationales for a social media space tuned for learning, called SocialLearn, which is currently being trialed at The Open University in the UK. SocialLearn has been designed to support online social learning by helping users to clarify their intention, ground their learning and engage in learning conversations. The emerging design concept and implementation are described here, with a focus on what personalization means in this context, and on how learning analytics could be used to provide different types of recommendation that support learning.
Read the whole chapter as an open eprint on the OU's Open Research Online server:
Ferguson, R. and Buckingham Shum, S. (2012). Towards a Social Learning Space for Open Educational Resources. In: Okada, A., Connolly, T. and Scott, P. (Eds.), Collaborative Learning 2.0: Open Educational Resources. Hershey, PA: IGI Global, pp. 309–327. Eprint: http://oro.open.ac.uk/33457