Learning Analytics for Learning Power
Knowledge Media Institute, The Open University, Milton Keynes, UK
3 year fully-funded PhD (Oct. 2012-Sept.2015), Stipend: £40,770 (£13,590/year)
Supervisors: Simon Buckingham Shum & Rebecca Ferguson
Background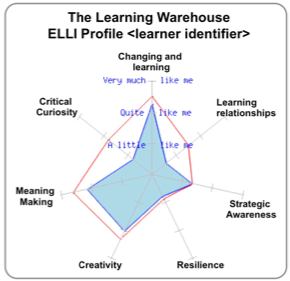 Intrinsic motivation to engage in learning (whether formal/informal, or academic/workplace) is known to be a function of a learner's dispositions towards learning. When these are fragile, learners often disengage when challenged, and are passive, lacking vital personal qualities such as resilience, curiosity and creativity needed to thrive in today's complex world. Learning Analytics seek to improve learning by making the optimal use of the growing amounts of data that are becoming available to, and about, learners [1,2]. Dispositional Learning Analytics seek specifically to build stronger learning dispositions (note that these are not 'learning styles', which have a dubious conceptual basis [3]). One particularly promising approach models dispositions as a 7-dimensional construct called Learning Power, measured through self-report data [4]. A web application generates real time personal and cohort analytics, which have been shown to impact learners, educators, and organizational leaders, and the underlying platform pools data from >50,000 profiles, which in combination with other datasets, enables deeper analytics. As a form of Social Learning Analytic [5], in combination with Discourse-Centric Analytics [6-7] and Social Network Analytics for learning [8], our strategic goal is to provide a suite of analytics that can help learners grow in Learning Power, and ultimately, build their capacity as life-long, life-wide learners.
PhD Challenge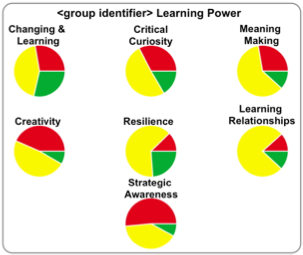 A key next step in this research programme is to harvest and analyse data from the traces that learners leave as they engage in social digital spaces, and to explore its relationship to other data sets and data streams. This PhD will therefore fund a technically strong candidate to design, implement and evaluate "Learning Analytics for Learning Power". The project will deploy iterative prototypes in authentic use contexts, considering OU platforms as a starting point (e.g. SocialLearn [9]; Cohere [10]; EnquiryBlogger [11]), but open to data streams from new kinds of digitally instrumented interactions (e.g. from Pervasive Computing; Augmented Reality; Quantified Self). A possible outcome is an analytics architecture open to diverse forms of input, grounded in a theoretically robust framework, generating visual analytics with transformative power for reflective learners.
Seize the Day!

This is a fantastic opportunity if you're passionate about the future of learning and want to engage with next generation pedagogy. You're already a great web and database developer, and now looking to develop a research career in Learning Analytics, one of the fastest growing topics in technology-enhanced learning. Your supervisors will be Simon Buckingham Shum and Rebecca Ferguson, who are active contributors to the field of Learning Analytics research.

The PhD will be in collaboration with learning scientists and practitioners in the global LearningEmergence.net research network, who are well placed to provide pedagogical input, user communities and impact evaluations. In particular, this work will be done in partnership with Ruth Deakin Crick, University of Bristol (Graduate School of Education & Centre for Systems Learning & Leadership), whose research into modelling and assessing learning power provides a foundational element for this project.
Open U. is the place to do research in learning technology, this being an institutional mission-critical challenge. The Knowledge Media Institute is an 80-strong state of the art research lab, prototyping the future for the Open University and the many other organisations with whom KMi partners. KMi is renowned for its creative, can-do culture, and its high impact on the OU's strategic thinking and technical capacity [Locate KMi]. The Institute of Educational Technology (where Rebecca Ferguson is based) is home to world leading research on learning technology, as well as conducting institutional research to inform the university's core business. You will be part of a comprehensive doctoral training programme in computing and educational technology, participating in a dynamic research community, with opportunities to connect with groundbreaking people and ideas — limited only by your energy and imagination.
To Apply…

Reading