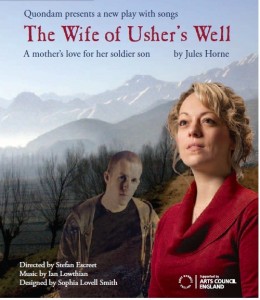 Write a play with songs, for a cast of four actor-musicians – that was the brief from Penrith's rural touring company, Quondam. I'd only written one song lyric in my life, and loved it! So I was kicking keen to work with a composer again. Also: write something entertaining for an audience that doesn't go to the theatre that often. An interval so the audience can get together for a blether. Oh, and it has to be fun for the actors. So a cinch, really… 
 Listen  to The Bottle Song – a duet between a woman and a champagne bottle.
Writing a play is mighty hard work, even with a brilliant dramaturg and director behind you (thanks, Stefan!). You spend a lot of time talking to yourself, usually in several voices. When things aren't working, the best strategy is to leap to your feet and feel the moment from within – a sort of method writing, I suppose. Then into the other character, see what they're up to. You'll gather that madness is never very far away.
But it all pays off when you go into rehearsal. From then on, it's all about teamwork – sorting the bits that don't work, adding new bits that do… Everyone pitches in with ideas. The whole piece has to unfold properly in time, with the right tensions and turns and surprises, and that's hard to get a full sense of when you're writing on your own. Then it's on its feet, scripts go down, and everything starts coming properly alive. At some point (horribly late), you realise the play's not yours anymore. It belongs to the actors. And you shuffle off, feeling sort of redundant, and a bit jealous. You kick a few lampposts. Finally, Helen, Danny, Andrew and Ruth take to the road in a van – the amorphous cargo of words, planks, paint and bodies that is a play. And 26 venues later, it evaporates to the wind.
Songwriting was fab! Not least because I had the chance to work with very fine accordionist, Ian Lowthian.
Lyrics are like puzzles, I found. First, you have to work out why they're there – what's the dramatic point? What's the moment about? What changes? They have to be in character, with a point of view (or two), in singable language, with a pattern that can be set to music. Keep it simple, but avoid cliché. For writers, this is hard-core multiskilling – drama, story, character, rhythm, economy, music. Bring it on! You know it's working when the audience cry.
Fast-forward: I'm working on the next brief. Two acts, interval , only three actors this time (cutbacks). And this time, it has to be a comedy. Bit of a cinch, then…
The Wife of Usher's Well by Jules Horne toured the UK in October-November 2010. Jules is based in the Scottish Borders and teaches for the Open University  in Scotland. She's currently writing a play for BBC Radio 4.
http://www.quondam.org.uk/national-touring.cfm
                                                             www.texthouse.net