Joanne Reardon Lloyd was commissioned to write a short story My Mind's Eye in collaboration with the award-winning artist Iain Andrews as part of the Mythopoeia exhibition running at Warrington Art Gallery and Museum.  The paintings for the exhibition were commissioned in direct response to some of the historic works on show at the Gallery.  The story, published in the catalogue accompanying the exhibition, was written in response to both the original paintings and their contemporary responses.   The exhibition is part of the Warrington Contemporary Arts Festival 2012.                    
Here's how it happened:
In February 2012 I was approached by Iain Andrews to collaborate on a project which involved him creating a series of paintings in response to historic works in the Gallery's collection.  He asked me to write a short story in response to both his paintings and the original inspirations.
We had originally discussed the idea of writing a fairy story because Andrews' work is influenced by the idea of 'myth-making' and, in particular, the work of Tolkien (the title Mythopoeia is taken from a Tolkien poem).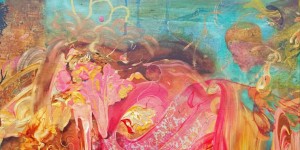 However, many of the images tended to lend themselves to a more literary and realistic approach and the resulting story became a story about awakening and being in touch with the land as well as a spiritual search for lost things (in the story a bereaved mother searches for her daughter).  This does, in many ways, echo some of Tolkien's themes but ultimately it is intended to be a story about healing and the tentative first steps towards recovery.   The paintings act as entrances to the story, the characters and images released to start a journey and become narrative. The writing isn't based on one single painting; it's based on several images and ideas which recur in each of the paintings – a half glimpsed shadow becomes a ghost, the remnants of a long lost city are a retreat where people come to be healed, musical instruments and voices find their way into the character's working lives, and water, trees and earth become the elements that sustain them.
All of the original paintings are from the late eighteenth and nineteenth centuries, many of them display dark almost lifeless images. The new paintings breathe life and colour into their stories and the journey is picked up in the short story, a conversation between painter and writer working in reverse in the way that an illustrator might bring their interpretation to a written narrative.   The exhibition forms a dialogue between the paintings and the story in which the viewer is asked take part in the conversation.
Mythopoeia runs from 28 September 2012 to 13 January 2013
Details of all the paintings in the exhibition are available here: BBC News North West