This autumn sees the culmination of a ten year project for author and OU tutor Kevan Manwaring. With the publication of This Fearful Tempest, his five volume series, The Windsmith Elegy, concludes.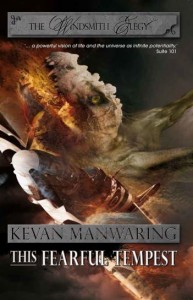 The project began in September 2002, as part of his MA in the Teaching and Practice of Creative Writing at Cardiff. An early version of his first novel in the series, The Long Woman, was delivered as part of his final assignment. In Autumn 2004 it was published by Awen and a month-long tour undertaken, supported by an Arts Council grant. The follow-up, Windsmith, was published in 2006, with another month-long tour. The Well Under the Sea came out in 2009. The Burning Path, 2011 – as a result of being Writer-in-Residence, El Gouna, Egypt throughout May the previous year. And the final draft of the final volume, This Fearful Tempest, was written at Carrick Castle, Argyle, this summer – where a 'live lit' version of the novels ('Song of the Windsmith') was premiered. A tour follows.
Series summary: Fantasy and history clash in this metaphysical epic, which follows the adventures of Isambard Kerne, Royal Flying Corps observer and Edwardian antiquarian, as he explores the Realms of the Four Winds and beyond. Only by mastering the Way of the Windsmith will he finally find release from Shadow World – a parallel Earth he becomes trapped in after falling through a mysterious vortex in the First World War. A man alive in the Afterlands of the dead, his quest is to find atonement for the murder of his co-pilot and return home to the land of the living, to the soil of his soul: the British Isles. Along the way he meets the lost of history, including aviators Amelia Earhart and Antoine de St-Exupéry, side-by-side with legends, angels and demons. Only by mastering the Four Winds can this Edwardian Odysseus master his fate and find his way home.
About the show: The 'live lit' version of the novel has been created in collaboration with Bristol-based musician James Hollingsworth. Images are provided by Cornwall-based artist Jonathan Hayter. It was launched at the Castle of the Muse, Argyle, Scotland, on 22nd September.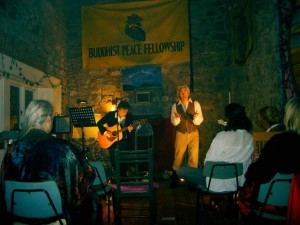 James Hollingsworth & Kevan Manwaring, co-founders of The Steampunk Theatre Company, took the high road to the wilds of Scotland to perform a special preview of the show to a select audience of international guests. The response was overwhelmingly favourable: with a review by Lilian Helen Brzoska concluding with the following: 'If you get a chance to experience a performance of " The Windsmith " grab the tickets with both hands and take along your whole family. Your will all hear a very fine story told with Light, Love and Honesty. Teenage sons and daughters, will find older brothers with whom to explore the inner reaches of the Human Condition with warmth, political awareness and Eco-Centric Wisdom.'  Future tour dates are listed below.
13 Oct – Song of the Windsmith, Acorn Theatre, Cornwall
30 Oct – The Storyteller's Journey, Hawkwood College
2 Nov – Song of the Windsmith, Open House Hall, Stroud
23-25 Nov – Writing Life, Skyros Isle of Wight