Category Archives:
Books and conferences
One of my highlights of the summer was taking part in the  'Towards a global history of American evangelicalism' workshop at the Roosevelt Study Center, Middelburg, Netherlands. This workshop, funded by the Luce Foundation, followed up from a conference, of the same name, at the University of Southampton in 2014. The workshop was to discuss the planned production of a special issue of Journal of American Studies on the same theme. You can see what a happy and intellectually stimulated group of folks we were in the picture (courtesy of Hans Krabbendam: from left to right, David Swartz , John Maiden, Uta Balbier, Hans Krabbendam, Melani McAlister, John Corrigan, Heather Curtis,  Timothy Stoneman, Brandi Hughes, Axel Schäfer  and Kendrick Oliver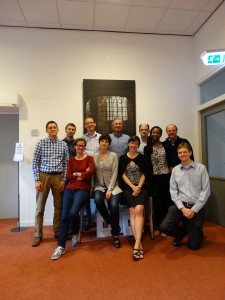 ).
The American foreign missionary enterprise expanded from the 1820s, alongside the nation's economic and imperial growth. During the Cold War period, evangelical missionary work expressed a universalist vision of American power, with Christianity often understood and utilized  as a  spiritual bulwark against the perceived global threat of Communism. In the later part of the 20th century, the numerical balance of Christianity in the world – and evangelicalism and Pentecostalism – has increasingly shifted to the global south. Scholars have highlighted the emergence of 'world Christianity' and the 'diffusion' of evangelicalism; and with it indigenous evangelical leaderships and practices, resistance to western paternalism, the reflexivity of missions, and increasingly transnational exchanges and flows of resources. What have been the changes and continuities in  American evangelicalism's engagement with the wider world during this long period?
There were papers here on conferences (1966 Congress on World Evangelism and Lausanne 1974) and organisations (e.g. Prison Fellowship International; Sharing of Ministries Abroad USA); print and radio media; gender and mission; race and civil rights; foreign policy and international aid. The paper I presented concerned ongoing research on an US Episcopalian charismatic mission network, and its activities in Latin America and Africa since the 1980s. I argued that this network displayed a strong emphasis on the mutual sharing of resources and responsiveness to local priorities and leaderships in its work with dioceses abroad; and this reflected both and a growing emphasis in evangelical theology and practice of mission on interdependence and a blurring of lines between 'sender' and 'receiver'. I'll keep you posted on developments with the special issue as they emerge.
In September Boydell and Brewer will be publishing (in their Studies in Modern British History series) a new volume co-edited by John Maiden (OU) and Andrew Atherstone (Oxford) – Evangelicalism and the Church of England in the twentieth century: reform, resistance and renewal.