Innovations in Activity Data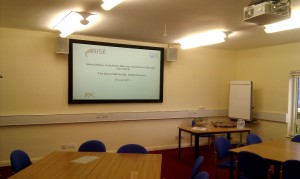 Monday 4th July saw the RISE team running a small activity data event on campus at the OU. Aimed specifically at academic libraries, the event, attended by around 25 people was the opportunity for people to hear some of the latest work from the JISC Activity Data programme with presentations from three of the library-related projects and an overview of both the programme and day from the Activity Data Synthesis project.  It was also a chance to think about some of the potenial and challenges of activity data in a world cafe-type event, and to have their horizons expanded by hearing about data visualisation tools and techniques.
Presentations
A few of the presentations are available online and we will link to them from here
What are the challenges around activity data in libraries?
World Café style workshop exercise
As part of the workshop we ran a world-cafe style exercise to get delegates to think about some of the practical aspects of activity.  We covered three aspects:
What data?, How much?, Where is it?, How do you get at it?
What to do with it?
What are the challenges?
If you aren't familar with this style of activity it's an informal exercise where participants write their thoughts onto a tablecloth.  The idea is that there is a topic under discussion at ea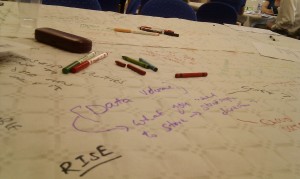 ch table and people walk around from table to table talking to people at the table and writing their thoughts about the issue onto the tablecloth.  Hopefully the comments written on the tablecloth encourage people to add their own thoughts that might confirm or dispute the comments made.  To help move things along we used facilitators at each table to encourage people to write their thoughts down. 
Over the next few days we will be writing up the comments and make them available through this blog.
Comments
If you were at the event and want to comment or blog about it we are happy to link to your thoughts from here.  First off the mark is Paul Stainthorp from Lincoln here.  Thanks from the RISE team to everyone who presented, helped out or came along on the day.  We hoped you had a great time.