As a writer with a background in radio, I'm really excited by the rise of audiobooks. The market is growing in double digits each year, and publishers are commissioning audio original fiction. More and more people are listening to books, and even calling it 'reading'.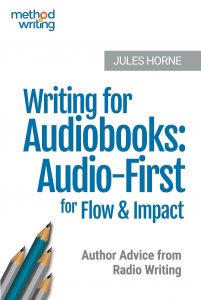 And although the change is driven by cutting-edge technology, it's paradoxically taking us right back to the days of campfire storytelling. The spoken word, rather than the written word, is gaining ascendance. Writing for performance is jostling with writing designed for the page. And this will inevitably have an impact on how writers write.
Some writers are already geared up for this realignment. Either they're already experienced in script, radio or spoken word, or they're a writer who naturally has a voice-first writing or editing style. Philip Pullman, for example, has talked about the musicality of writing and how he feels the shape of a sentence before he knows what's in it. Many writers read their work out loud to get a sense of its music. Poets are often used to performing their work and gauging how it lands aloud.
But many writers aren't tuned in to audio-first writing. They may not even realise it's different to writing for the eye. And if they're hoping to produce their books in audio format, they'll struggle, unless they learn a few voice-first techniques.
I've trained in radio writing, including news and features, and had several plays and stories on BBC Radio. I also perform spoken word and music. So it was time to pull together some of the techniques I've gathered on the way.
Writing for the Ear: Audio-First for Flow and Impact is about the art and craft of writing in an audio-friendly way, and how to adapt your writing for audiobook production. Some of the concepts are intuitive and based on the ancient art of rhetoric. Some come from music – the idea of upbeats and pulse, for example. Others come from performance and are about flow and landing. Still others come from psychology and theories about engagement.
Here are some key concepts to start you thinking:
Writing as script
Once your novel is handed to a narrator to read aloud, it becomes a script. You are now a scriptwriter. Embrace that mindset shift. When you read your work aloud, don't just mumble it into the page. Perform it, even just to the room. This is very different to an interior read.
Writing for an audience
Not just a reader – an audience. The Other is a condition of performance. A living, breathing person will physically experience your work. This, too, is a mindset shift for many writers used to an interior way of working and thinking. There are fewer places to hide.
Attunement
It takes time to tune into the spoken word and different voices. Transitions need to be far more carefully handled, as listeners don't have the luxury of flicking backwards on the runaway train that is audio. Signposts are paramount.
Landing
Actors and comedians often talk about whether a line lands. This is about how it hits the audience, and about rhythm and salience. In poetry, you'll think about line beginnings and endings and making the most of those prominent positions. In audio, you need to do the same. Elements that are just about findable in a torrent of prose will disappear in an audiobook, unless you give them listening space.
Audio-first writing
There's lots more to consider, including how to handle arcs, spans and flow, and techniques radio writers use for number-heavy and visual material.
But for a real test of your writing in audio form, you need to actually record your writing. It's best to do this before you go to the expense of hiring a studio. It takes a couple of days to record a 50k novel, so you want to be sure your writing is ready. Use your phone and listen back. Some writers swear by using a text-to-speech narrator to get the necessary distance from their work.
And even after you've carefully edited your work, you'll always find further blips during recording. Some things will turn out surprisingly hard to say in the moment. Others won't land clearly. Collect this mark-up as you go, as a separate editing pass. It can usually be fed back into your manuscript. A kind of audio-first proofing!
The first few times you do this, it's a lot of work. But over time, your ear gets tuned into the audio-first way of writing and editing. You no longer need to make so many adjustments. And your editing skills improve no end, because anything baggy or unclear will be obvious.
Or, you could go the whole way and write audio-first. In other words, write the book-script, record it and then publish the print and ebook. I think more and more writers will do this, and that's how I wrote this book. It'll be interesting to see (and hear) how it affects writing style in years to come.
Jules Horne teaches on A363 and the Open University MA course, A802 and A803. She lives in Scotland.