A novel in progress by Lane Ashfeldt has been shortlisted for the Dundee International Book Prize 2011. There are six books on the shortlist and the winner is yet to be announced. Publication forms part of the prize for the winner.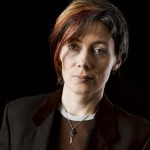 Lane said "This has given me a teeny taste of what it must be like for those who have writing shortlisted for big literary awards, and it's very scary indeed. Even if my novel is not selected as the overall winner, it is an honour to get this far."
Meanwhile the shortlisting has inspired Lane to set aside some time this summer to prepare a final draft of the novel. She is hopeful that being shortlisted for the award could help bring her book to the attention of an agent or publisher.
A published writer of short fiction, Lane currently teaches Creative Writing (A215) in the London region.