Heather Peace's first novel All to Play For is to be published on October 29th by Legend Press. Narrated from 2011 by a former BBC drama script editor, it begins at the Edinburgh Festival in 1985, and follows several young people from varying backgrounds as they make careers in television, ending in 2000. It's a funny and truthful picture of what it was like to work at the BBC during that period.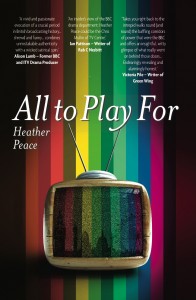 Rhiannon dreams of joining the largest broadcaster in the world: the BBC. And so begins a life of highs, lows, and absurd experiences for five ambitious young people, all keen to make it in the increasingly commercial world of television. Caught in the middle between art and commerce, Rhiannon realises the industry is transforming around her. During one of the most dramatic periods of change in its history, aspiration, desperation and clashes of ego threaten to destroy the Corporation altogether. A story of artistic expression vs corporate gain, of how some people make a drama out of a crisis, and others a crisis out of a drama. 
"Lifts the lid on the inner workings of the BBC Drama department like no other book I have ever read. A bitingly honest funny poignant and brilliant debut novel." Owen O'Neill. 
Heather is an AL on A363 Advanced Creative Writing in the London region.