Emily Midorikawa and Emma Sweeney – longstanding friends, collaborators and OU Associate Lecturers – had a piece in The Times on Saturday May 26th. The one-page feature celebrates female writing friendships in the run-up to the announcement of the last ever Orange Prize.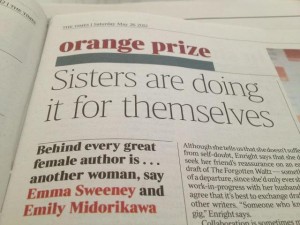 As long-standing friends and supporters of each other's work, Emily and Emma suspected that behind the scenes other women writers also shared similar relationships. But while famous male partnerships tripped off the tongue (Hemingway and Scott Fitzgerald getting drunk in Parisian bars; Dickens and Wilkie Collins roaming the music halls of Victorian London; Wordsworth and Coleridge tramping the Lake District's rugged tracks), female friendships seemed to have received less attention.
But they did unearth some fascinating collaborations between their famous female forbears, and they also discovered how writing friendships have sustained some of the best female writers around today: Anne Enright and Lia Mills, Emily Pedder and Monique Roffy, Jill Dawson and Louise Doughty.
If you have an online subscription, then you can access the article here.  Otherwise you can access it for free through the OU library.  Search for "Emma Sweeney and Emily Midorikawa" in "Broadsheet Newspapers" and it should come up.
If any of you know of any famous platonic female writing friendships, then please do get in touch, as Emily and Emma are hoping to continue their research in this field: e.c.sweeney@open.ac.uk.
All the best,  Emma and Emily