I began performing at the same time I began writing in earnest – back in 1991 – and so it is second nature to me to create a spoken word show based upon my latest publication, Northamptonshire Folk Tales (The History Press, 2013). When I started out I quickly learnt getting folk to read your poetry was like asking them to do your Tax Return (and my early efforts were probably as excruciating), and so I realised that to 'get my work out there', I literally had to step up to the mark (or the mic). I started performing at 'open mic' events in my old home town, Northampton – badly to begin with, making all the classic beginner mistakes (reading from a text; speaking too low or too fast; avoiding eye contact with the audience; apologising, etc). In a live performance you quickly ascertain what works and what doesn't. Instant feedback is visceral (clapping, tears, laughter), useful, but nerve-wracking. I learnt (the hard way) that the more effort you put into a 'reading', the more the audience appreciate it. Take the effort to learn it by heart, and the audience will generally give you the time of day. Suddenly, your performance has gone up several notches: there's no paper-barrier between you and the audience; you can make eye-contact; you can use both hands for gesture… All you have to do is remember it!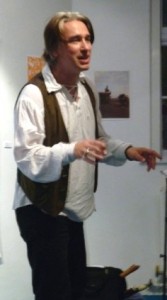 Fast forward several years – I became Bard of Bath after winning the local eisteddfod in that city back in 1998. I started trying my hand at storytelling – even more terrifying, it seemed, as there's no 'script', no safety net. The storyteller performers extempoire, or completely improvises. I became a professional storyteller in 2000 when I went freelance, getting bookings in schools, libraries, art centres, museums, and so on. I have since performed across Britain, live on BBC TV, and abroad.
After moving to Stroud in late 2010 I worked on a commission for The History Press – a collection of folk tales, as part of their county-by-county series. I opted for Oxfordshire – the 'bridging' county between my East Midlands roots and West Country home. For that I collected (and rewrote in my own words) 40 tales – the idea is that each has to be 'performable', that is not a verbatim performance script, but written with a sense of orality and aurality. This is where my experience as a spoken word performer cross-fertilised with that of my writing practice. To 'test' the material I performed it, whenever possible, to a live audience, before committing it to paper. After the book came out I toured it in venues across Oxfordshire to diverse audiences (Woodstock Bookshop; Alice Day, Guildhall Oxford; Beatnik Albion Bookshop; Oxford Folk Weekend).
Encouraged by the success of Oxfordshire Folk Tales, I wrote a second collection, drawing upon tales from my old home county of Northamptonshire. This was published in October 2013. I am now gearing up for performances based upon this latest book, but I also wanted to offer something different. Looking at my two books I decided I wanted to create a show based upon both. What could link them, beyond the folk tale genre? Earlier this year I took part in a project for Bath Literature Festival – based upon the New Penguin Book of English Folk Songs (Roud; Bishop 2012), local storytellers were asked to re-interpret them as narratives. The show I performed in was entitled rather memorably as 'Tales of Lust, Infidelity and Bad Living'. Inspired by this, and by the many theme-based shows I have helped co-create with my Bath-and-Stroud-based storytelling group, Fire Springs, over the years, I decided to find a thematic link for the show, and thus was born 'The Rose and the Snake', partly inspired by the flowers associated with the respective counties, but also by the sexual politics which run throughout the material (as symbolised by my leitmotifs). Some stories are based on what are called Murder Ballads – and so love, death, revenge, and bizarre magical shenanigans are common tropes. This new show would be a collaboration with folksinger Chantelle Smith, who would complement my stories with ballads, thereby providing sonic texture, i.e. different registers of voice. Previously, when performing solo, I have achieved this by switching from story to poetry (I am no singer, but I am an experienced performance poet). Working with a musician widens out the appeal of the show tremendously. It is hard work, even for a word-junkie like me, to sit through a whole evening of poetry; or long stories, without variation. At sixty minutes, our show is intentionally lean and mean. With over 80 stories and countless ballads to choose from, the different configurations of material are vast – thus offering the possibility of numerous 'sets', differentiated according to the time of year, venue, and nature of the event. The Rose and The Snake is now available for 'weddings, barmitzvahs and christenings'!