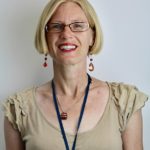 Ute Manecke is a Learning and Teaching Librarian at the Open University. She's supporting modules in production and presentation including those that are part of the Open Programme through digital information literacy integration. She also runs online training sessions for students and answers enquiries at the library's virtual helpdesk. Ute also currently studies one of the OU's postgraduate creative writing modules and has her own blog. Other things she enjoys are walks and runs, writing and reading, tea and coffee and the company of cats.  
On Tuesday 31st March 2020, I joined Jay Rixon, Qualification Manager for the MA/MSc Open, to run the second session in the newly introduced series of themed sessions that invites Open Programme students to join in for a chat about a topic they are interested in. This session was entitled 'Open the Book' and was all about books and reading. Students and several members of the Open Programme team joined the session and soon a lively discussion was in full swing.
We began the conversation by sharing with the others what attracts us to a particular book, which included genre and author preferences before we considered preferred reading formats. It soon became clear that there was a wide range of genre preferences from fantasy and sci-fi to biographies, crime fiction, historical fiction and the classics. Print, e-book as well as audio book formats were all used. There was also variety in the ways we obtain print books: Jay enjoys buying second-hand books, whilst I predominantly borrow books from the public library – in part to support local libraries and because of space issues. Supermarkets, Amazon, bookshops and the OU Library book exchange were also mentioned as sources from which we obtain our books.
I was pleased to hear one of the students mention the OU Library's Very Short Introductions series and would like to recommend it to you. These e-books are as their name says brief introductions to all kinds of topics. Particularly now in this time of enforced social distancing and isolation it can take your mind off worrying matters and it can be fun exploring a completely new topic you might have always wanted to know more about. The topics are wide-ranging covering ethics, organised crime, consciousness and hieroglyphs – to give you just a few examples.
Most of us said that we read both fiction and non-fiction but there was probably a slight preference for fiction, which was often seen as an escape from course reading. Favourite titles also ranged widely and so did our book recommendations, which you can find listed below. I drew attention to the OU Library's offer of not just non-fiction but also fiction books including many (modern) classics. Feel free to make use of the opportunity to locate some of these e-books via Library Search by searching for them by their titles.
I found this session extremely enjoyable. It has also given me an insight into what and how some OU Programme students and staff read and has given me some titles that I haven't read yet and that sound interesting.
Here are a few of the book recommendations shared in the session:
The Mirror and the Light – Hilary Mantel
Handmaid's Tale – Margaret Atwood
David Copperfield – Charles Dickens
Travellers in the Third Reich – Julia Boyd – for those interested in WWII
Inferior – Angela Saini
Left Hand of Darkness – Ursula LeGuin
Conclave – Robert Harris
This is going to hurt – Adam Kay
Albert Camus – The Plague
Machines Like Me – Ian McEwan
Oxford Very Short Introductions series
Going across the Channel – Emile Zola
Little Women – Louisa May Alcott
Time Traveller's Wife – Audrey Niffenegger
Shardlake Series – CJ Sansom
Eleanor Oliphant is Completely Fine – Gail Honeyman
Audiobook – Stephen Fry reading Sherlock Holmes
Curious Incident of the Dog in the Night-time – Mark Haddon
Born on a blue day – Daniel Tammet
Bound for Glory – Woodie Guthrie
Please share your favourite titles and authors here and tell us what attracts you to a book. We want to hear from you why not add to our shared Padlet page.