The OU Design Student Annual Exhibition 2020, launched online on June 25th with an event attended by more than 80 students and staff at which two designers talked, Ben Sippel on Design in Lockdown ( https://www.metalstairs.com) and Tanveer Ahmed on Decolonising Design (https://www.antennebooks.com/product/modes-of-criticism-4-radical-pedagogy ).
Unlike most other design schools, the OU exhibition always features work from across the three stages of the undergraduate degree and submission for exhibition is entirely voluntary. Students are asked to submit a poster which portrays a piece of work that they are proud of and there is a competition too, just to add interest. The resulting entries span a wide range of design, from graphic design for T shirts – the very first assignment in the Design and Innovation degree, through to product, service and even system design. Across the three stages the briefs offer an increasing amount of autonomy to the students and this is reflected in the diversity of subject matter culminating in the final stage project.  Student work also reflects the complementary subjects being studied alongside design, the current degree structure enables students to choose from a wide range of subjects drawn from the Arts and Humanities or STEM.
This year there were more than 60 entries to the exhibition, from these winners needed to be selected at each stage. The selection was carried out by a mix of central academic staff, associate lecturers and, importantly two student volunteers, using a consensual assessment technique. Each poster was rated for communication and the originality and quality of the idea it portrayed. Selectors carried out this assessment individually and then the scores were brought together and decisions made based on the consensus of the team. The quality of entries was high, with some very interesting ideas at all levels, so the decisions were not easy. Finally though, winners were chosen for each stage with the nature of the awards varying to recognise the diversity of the entries.
For the first level module, Design Thinking, two winners emerged with strengths in different areas:
Alexander Foster won the prize for the best idea, a droplet shaped public water fountain that also enables the filling of reusable water bottles. The selectors felt that this was a very well presented and feasible idea that conveyed the design vision clearly.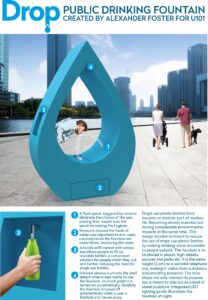 Mar Reyes won the prize for the best communication for her use of graphics and 3D models to convey her idea for a pull-down shelf. The selectors appreciated the simple but playful nature of this well balanced poster.
Commendations were also awarded; to Emily Studholme, for her T shirt design based on identity which used finger prints as faces to convey the message of individual uniqueness; and, for game design to Juan Torres, for his game based on the services of a hotel and to Ugne Astravaite, for creative thinking, for her design of a toaster-like phone charger.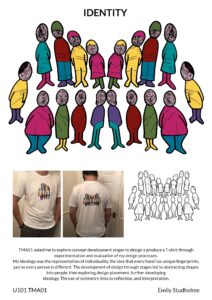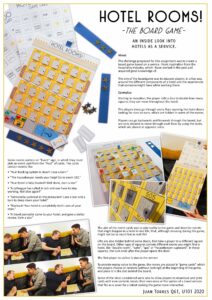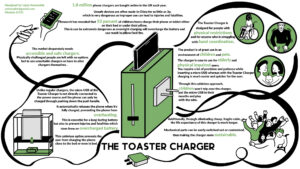 The student winner for the second level module Design Essentials was Dean Parsons who responded to the brief to design something to encourage playful engagement at the Ditchling Beacon National Park by creating a monolith which can be interacted with in various ways that interpret the park and its surrounding landscape.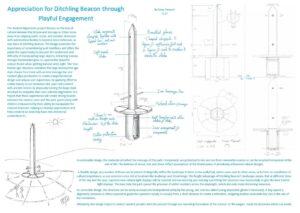 A commendation was also made to Richard Smith for his IKEA hack, a fold-away desk which seemed to the selectors to be particularly pertinent for students trying to find space in their homes during lockdown.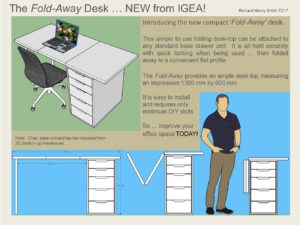 The third level module, Innovation: designing for change presented particular challenges for the selectors because of the diversity of ideas, all of which had merits. With difficulty, two joint winners were finally agreed upon:
Jennifer Norris Taylor presented a design proposal for a range of discrete breast-feeding tops in a very well balanced poster that clearly communicated her idea.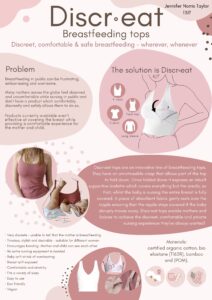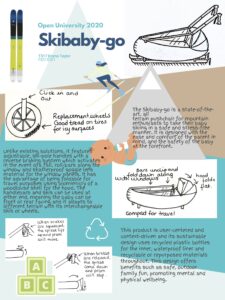 Emma Taylor proposed a kind of ski-pram to enable winter sports enthusiasts to ski with their baby. It was felt that this idea would be particularly useful in countries with heavy snowfalls.
In addition to the winners at each level there was also an overall winner. This year the winner came from the first year module:
Benjamin Nairn's design of a device based on piano keys that plays music to stimulate the memory of dementia sufferers and to provide a focus for interaction between them and their carers was seen as a sensitive response to the problems associated with that illness. The idea was well presented, including a well thought out and annotated image of a 3D model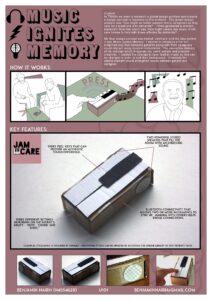 We are very proud of all of the entries to the exhibition, if you would like to see more please go to https://www.behance.net/designexhibition2020
You will see that entries have been clustered into themes (called Moodboards in Behance). These eight themes, Sustainability, Hacking a Product, Social Technology, Serious Play, Humanity, Finding and Solving Problems, Site Specific and Identity reflect the wide range of opportunities and responses that students encounter throughout their design studies at the Open University.